'That's Complete Garbage': Trump Supporter Erupts During CNN Segment on Clinton's Emails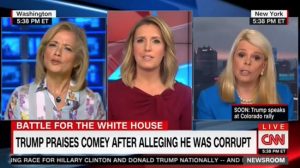 Fireworks flew on CNN when Donald Trump supporter Betsy McCaughey slammed the notion that the FBI's discovery of new emails is not a damning new development for Hillary Clinton and her server scandal.
Poppy Harlow started things off on Sunday by asking if it was "hypocritical" of Trump to start praising Comey now, after blasting the FBI director as part of the rigged, corrupt system. McCaughey took the opportunity to talk about how "the Justice Department is the very definition of corruption," which caused a tussle when Harlow kept asking her to get back on track with the original topic.
After McCaughey brought up the unconfirmed whisperings that Clinton made a deal to keep Loretta Lynch in her administration, Harlow turned to Hillary Rosen, a Clinton supporter, for her take. Rosen remarked that Comey's vague letter hasn't provided any new grounds yet for a criminal case against Clinton, which prompted McCaughey to shoot back, "that's complete garbage."
As McCaughey brought up a Wall Street Journal report which stated that Huma Abedin's computer had approximately 650,000 emails on it. Harlow reminded her that that number was for how many emails were on the device as a whole, and that it has yet to be determined how many of them are relevant to Clinton and her server.
As Rosen backed up Harlow's fact-check, McCaughey shot back that both of them are so busy defending Clinton that they fail to consider the bigger picture of her transgressions. Rosen eventually told McCaughey "you're ranting ridiculously" and that Comey's letter provides no facts about any new wrongdoings of Clinton.
[Image via screengrab]
— —
>> Follow Ken Meyer (@KenMeyer91) on Twitter
Have a tip we should know? tips@mediaite.com