'That's Insane, Sean!' Kirsten Powers And Hannity Get Into Intense Battle Over Obama Daughters' Vacations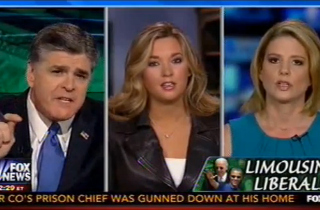 Last night on Hannity, the eponymous host and Kirsten Powers duked it out over the conservative fury about President Obama's and VP Joe Biden's families taking multiple vacations in recent months. At one point, Powers labeled the Fox host's outrage to be "insane" and labeled the segment to be "mean-spirited" in nature.
"While the administration can't find the money to open the people's house with tours and the deficit continues to mount, we, you, the taxpayers, you continue to fund the lifestyles of the rich and famous, their luxurious excursions and much more," Hannity said after noting that "Crazy Uncle Joe" Biden had recently gone on his third trip in three months.
"Just so I'm not misunderstanding you, you're upset that the girls went on vacation? Like, the daughters?" Powers asked.
"We have to pay for the security," Hannity said. "Which is the right thing to do. But this is not one vacation, they went on two spring break vacations."
"No, I'm sorry," Powers responded, "That's insane."
She continued: "I think you should leave the daughters out of it. They should be allowed to go on vacation."
Hannity interrupted, countering with the widely-circulated conservative point that "while 50 million Americans are on food stamps and 14 million are on disability," the "optics are a little wrong" for the administration to be taking nine vacations in three months.
"If we're paying for it at a time when 50 million americans are on food stamps and 14 million on disability, one in five. i think the optics are wrong when we're talking nine vacations for three months.
"I cannot believe you are making an issue out of what the girls are doing," Powers fired back. "They're little girls!"
As Hannity again rattled off all the separate trips the Obama daughters have taken, an exasperated Powers shook her head in disbelief and muttered "Oh, my God."
Fox contributor Katie Pavlich chimed in that the bill for all these trips can be costly; and the secret service members were unable to see their families in order to accommodate the president's vacations.
"Look, the Bushes went away and the Reagans went away," Powers countered. Pavlich replied that those two presidents reportedly waited until after Christmas so that the secret service agents could be home for the holidays.
After Powers labeled the entire segment "one of the most mean-spirited things" Hannity has ever done, the Fox host shouted back: "Don't lecture me on mean-spiritedness when 50 million Americans are suffering under his economic policies, 14 million more Americans are on disability, Kirsten!"
The battle took a turn for the nasty as Hannity told Powers to "get over it" when she repeatedly attempted to explain why it's "outrageous" to be concerned about what the presidential daughters do in their vacation time. Ultimately, the segment ended with a frustrated Powers shaking her head and laughing off Hannity's charges — and no good-nighting from either side.
Watch below, via Fox:
— —
>> Follow Andrew Kirell (@AndrewKirell) on Twitter
Have a tip we should know? tips@mediaite.com