'That's Not Fair & Balanced!': Dem Rep And Fox Host Get Into Fiery Exchange Over 'Demagoguing' Medicare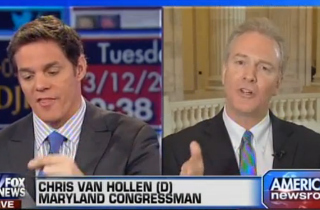 During a conversation about Republican Paul Ryan's House GOP budget plan, Fox host Bill Hemmer and Democratic Rep. Chris Van Hollen (MD) got into what can be described as a "fiery interruption-fest," with the latter accusing Fox of not handling the topic in a "fair and balanced" manner.
About midway through the conversation, Hemmer dismissed Van Hollen as having just repeated "talking points" on the Democratic Party's desire for a "balanced approach" to fiscal reform — i.e., spending cuts and tax increases. The congressman did not take kindly to that characterization.
"Don't belittle statements by calling them so-called talking points," Van Hollen said. "This affects people's lives. And the reality is if you take the budget the way the Republicans in the House are presenting it, it will have a drag on the economy right now."
When Hemmer attempted to present the Republican side of the issue by reading from Paul Ryan's recent WSJ editorial, the two began to repeatedly interrupt each other.
"You can tell me what he wrote, Bill, but I read his article," the congressman shouted over Hemmer, who insisted, "This is important."
As the crosstalk continued, Hemmer took a stern tone, "I will ask the question and then I will let you answer," before finally reading off the Ryan quote: "'The other side will demagogue this issue. But remember: anyone who attacks our Medicare proposal without offering a credible alternative is complicit in the program's demise.' That goes right to the point that we are having right now."
"Can I answer you now, Bill?" Van Hollen cut in. "What did Paul Ryan and Mitt Romney do in the last presidential election? They demagogued the $715 billion in Medicare savings that was part of ObamaCare. You remember that, don't you?
When the two discussed a possible "grand bargain," Van Hollen rebuked his Republican colleagues, insisting that "if they are going to insist on doing this simply by cutting our investments in education, and violating our commitments to seniors we are not going to get there."
As Hemmer wrapped up the conversation, the tension rose once more, with Van Hollen telling the host: "Reading a Wall Street Journal article by Paul Ryan on the air? I don't see how that's the fair and balanced approach."
"We had you on to present the Democratic side, and we used the Wall Street Journal piece to present the Republican side," Hemmer replied. "In my world, that is fair and balanced."
"No, you're using your comments to present the Republican side," Van Hollen added just before the time ran out.
Watch below, via Fox:
— —
>> Follow Andrew Kirell (@AndrewKirell) on Twitter
Have a tip we should know? tips@mediaite.com