'That's Not What He Said': MSNBC Anchor Rejects Trump Supporter's Spin On 'Suspense' Answer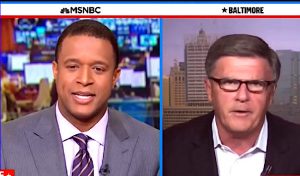 During a segment on MSNBC earlier this morning, anchor Craig Melvin pushed back against former Maryland Governor and current Donald Trump supporter Bob Ehrlich after Ehrlich claimed Trump's possible refusal to accept the election results may just be him concerned about WikiLeaks.
Bringing up Al Gore's eventual concession after a contentious battle over the 2000 election results that included the Supreme Court, Melvin asked Ehrlich if he believed Trump would be as gracious as Gore eventually was. The ex-governor noted that involved a lengthy process over validating ballots in Florida, but then tried to pivot to discussing how last night's debate involved more substance.
Melvin brought the conversation back to Trump's "suspense" answer, pointing out that when a candidate say something like that, it becomes the headline for the next day. He then asked Ehrlich why Trump would say that if he didn't plan on contesting the outcome of the election.
According to Ehrlich, it is only because the GOP nominee is concerned about what can happen in the next couple of weeks. Namely, we can see more stuff like the recent Project Veritas tape or another WikiLeaks email dump, meaning anything can happen.
The MSNBC anchor, however, wasn't satisfied with that response.
"That's not what he said," Melvin pointed out. "Nor did he say, 'You know what, I don't have to worry about contesting, I don't have to worry about raising the legitimacy because I'm going to win this thing.' He didn't say that last night."
Ehrlich merely stated that Trump said that "in context" and that "he intends to win."
Watch the exchange above, via MSNBC.
[image via screengrab]
–
Follow Justin Baragona on Twitter: @justinbaragona
Have a tip we should know? tips@mediaite.com