'That's Why CNN Goes To The Top': Morgan Spurlock, Tavis Smiley Rip MSNBC Losing 'Sight Of News'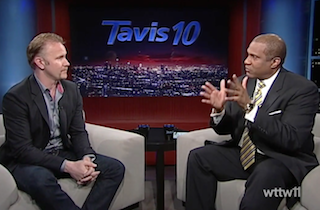 New CNNer Morgan Spurlock paid a visit to Tavis Smiley's show on Wednesday night when the two discussed Spurlock's show and the state of TV news. During the discussion, the pair recalled MSNBC chief Phil Griffin essentially saying his network wasn't the place for breaking news. Smiley and Spurlock found it astonishing.
Smiley began by asking about CNN under Jeff Zucker and how the network will change while staying true to its brand. There is still room for CNN to be a leader when it comes to news, Spurlock argued, as well as longer, investigative shows — such as his own.
"There's greater you can tell that still live and breathe within news and journalism that aren't just the same type of stuff," he explained. At that point, Smiley brought up Griffin's remarks — "we're not the place for" breaking news — and how MSNBC "took a beating in the ratings."
"CNN kicked them in the behind, Fox News wore them out, even Headline News wore them out," Smiley said, adding that Griffin's statement was an "astonishing" one. "The fact that the head of MSNBC can say, we just don't do news so well, so we got killed over the last few months because there were so many breaking news stories — including Boston, etc. etc. — and that's why CNN goes to the top," he continued, "what do you make" of that?
People have bought into the notion that "punditry sells," Spurlock responded. CNN was on top of breaking stories and Fox usually has someone on the ground, he added, but MSNBC "has really bought into the whole pomp of punditry and has lost sight of news."
Speaking more broadly about the lack of smart television, Spurlock further lamented the dumbing down of TV and abundance of cheap and easy reality shows.
Watch below, via PBS:

Have a tip we should know? tips@mediaite.com