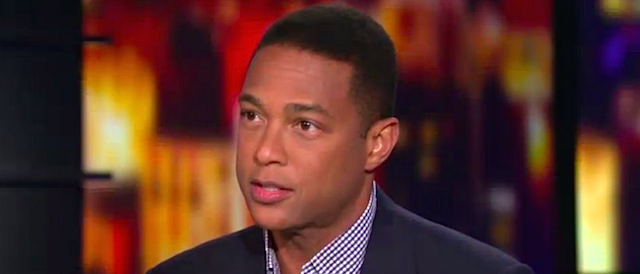 The May issue of GQ magazine features one of the most in-depth profiles to date of Mediaite favorite Don Lemon, who is both one of CNN's fastest-rising stars and one of the Columbia Journalism Review's worst reporters of 2014. It is precisely that dichotomy that writer Taffy Brodesser-Akner illuminates in her piece. Below are the biggest things we learned from the piece.
—
Lemon Was a College Republican
Asked about his political affiliation, Lemon claimed not to have one, and balked at the idea that he has either "liberal" or "conservative" values.
He claims not to have a political affiliation—he voted for Barack Obama in the past two elections, but in college he was a Republican and he voted for Reagan once, before Reagan's treatment of the AIDS crisis disenchanted him. But that doesn't make him a Democrat. "People expect me to be liberal because I'm gay," he says. "And I'm not liberal." But over lunch, when I describe his values as conservative, he objects to that, too. "You keep saying I have conservative values. I don't. I think I have values that are important and realistic. And they're not necessarily spoon-fed by someone. I thought out what my values should be."
—
Jeff Zucker Loves the Attention Lemon Gets — Good or Bad
As one of the only outside voices in the piece, CNN president Jeff Zucker summed up why his network needs someone like Lemon in the spotlight:
"Let me put it this way," says Jeff Zucker. "There's certainly a lot of interest in Don Lemon, and that's a good thing for Don and for CNN. You know, Don is a little bit of a lightning rod. Frankly, we needed a little bit of lightning."
—
Lemon Admits He Sometimes Just Talks to Fill Dead Air
Addressing his various missteps, Lemon basically said it comes with the territory:
"When you're a network-news anchor, you have a twenty-two-minute news hole, and you read not even five minutes of copy, if you read that much," Lemon tells me. "When you're a cable-news host, you're on for hours and hours and hours live. Right? Sometimes there's nothing in that box, no words."
Case in point: that time he said it "obviously" smelled like marijuana during the Ferguson protests.
In Ferguson, when he said "obviously," he was just (he tells me) employing one of many of the filler words an anchor uses when he has to fill in dead air.
—
Lemon's Awkward Cosby 'Teeth' Moment Was Inspired by Personal Experience
Perhaps the biggest relation in the profile came during a discussion about one of Lemon's most infamously awkward moments, when he asked a Bill Cosby rape accuser why she did not just use her teeth during oral sex. It turns out that suggestion had personal resonance for Lemon, who has described himself as a sexual abuse survivor:
When I ask Lemon about his interview with the alleged Cosby victim and why he asked about the "usage of the teeth," he gives me a long answer about how the incident started a conversation about sex abuse. But it didn't do that, I tell him—it started a conversation about people who say the wrong thing to victims of sexual abuse. And shouldn't he have known better? After all, he was a victim, too. He smiles and shrugs and eats his food. Later, after dessert, I ask him again, and finally I get the real answer: Lemon tells me that when he was a child and was being forced to perform oral sex on his abuser, he told that fucker that the next time, he'd bite his dick off, and that's when Don Lemon stopped getting molested.
—
Lemon Doesn't Know How to Pronounce Sorbet
This anecdote comes at the beginning of the piece, but it is so delicious that we are saving it for the end.
When Brodesser-Akner tried to order sorbet at the end of their lunch together, he corrected her pronunciation:
He leans in, big warm smile, not wanting to correct me, but needing to: "Sorbette," he says, like a news anchor. "It's pronounced sorbette."

"Sorbette," I repeat, shaky. I smile, not quite understanding the joke.

"Sorbette," he says with the confidence of a man who informs hundreds of thousands of Americans each night about what is happening across this land as well as many others. "It's pronounced sorbette." Sorbette! Could he be right? I've been saying it like a French word for years, like a complete asshole. Have I, a native English speaker, a graduate of a four-year college, a frequent eater of frozen desserts, been mispronouncing it all this time?
Of course, he was wrong:
But now here comes the waiter, and he asks if we've decided, and Don Lemon asks for the sorbette, and the waiter looks at Lemon like, Are you joking? I give the waiter the silent, wide-eyed micro head shake—No, he's serious, proceed with caution—but the waiter has guts that I don't, and so he says, "It's sor-bay, sir."

Because of course it's sor-bay. I am shaken from my stupor and remember that yes, for sure, absolutely, it is sor-bay. I am right. The man sitting across from me, smiling and confident—he is not right. And so I am relieved, but also nervous about what will happen next.

But Lemon is not embarrassed. "Oh," he says, and then nods, because you learn something new every day, and he doesn't look at me to say how embarrassed he is, he doesn't look with a gulp at the tape recorder, he doesn't attempt a joke to clean it all up. He just says, "That's what I'll have, then." And we move on.
—
Read the full profile at gq.com.
[Photo via screengrab]
— —
>> Follow Matt Wilstein (@TheMattWilstein) on Twitter
Have a tip we should know? tips@mediaite.com