The 5 Most Awkward Moments from the Donald Trump-Mike Pence 60 Minutes Interview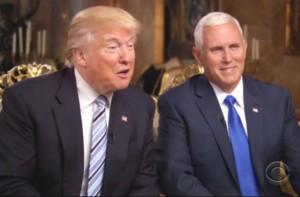 Donald Trump and Mike Pence did their first joint interview as a ticket on 60 Minutes tonight, and, well, there were a number of pretty awkward moments.
It was mostly the Trump show, with the GOP nominee weighing in on everything from the coup in Turkey ("I stay with our allies") to the Constitution ("there's nothing like it, but it doesn't necessarily give us the right to commit suicide, as a country"), but below you can see the somewhat odd and uncomfortable highlights.
1. Iraq War vote
Trump told Lesley Stahl that he wants to be a president who goes to war to take out America's enemies. Stahl pointed out that the U.S. went to war in Iraq. Trump––who has attacked Hillary Clinton over and over and over on that––said, "That was handled so badly… That was a war that we shouldn't have entered."
Stahl pointed out to Trump that the man sitting next to him voted for that war. Trump said, "I don't care… It's a long time ago. And he voted that way and they were also misled. A lot of information was given to people."
Stahl kept questioning Trump on why he gives Pence a pass but not Clinton. Trump jokingly nudged Pence a bit and said, "He's entitled to make a mistake every once in a while."
2. Negative campaigning
Pence has been very outspoken against negative campaigning, so Stahl asked him how exactly he squares that with being the running mate of someone who's not only a negative campaigner, but engages in nasty, insulting nicknames. Pence sidestepped and said, "I think this is a good man who's been talking about the issues the American people care about."
He did his best to avoid directly answering the question, and Trump ended up giving him an assist, telling Stahl he doesn't expect Pence to say things like "Crooked Hillary."
Stahl was still very persistent in asking Pence about the name-calling. She didn't get far.
3. "Do you think John McCain is not a hero because he was captured?"
Stahl confronted Pence about one of Trump's most infamous attacks and if he went too far.
What made this particularly awkward, though, was when Pence hesitated and then Trump helpfully told him, "You could say yes. I––that's okay."
Good to know Trump's giving him permission to criticize him.
4. Waterboarding
Trump is very much in favor of waterboarding, but Pence refused to say if he agrees with that, insisting to Stahl, "I don't think we should ever tell our enemy what our tactics are."
Stahl kept asking Pence if he agrees with his running mate, and Pence just kept saying, over and over, "Enhanced interrogation saved lives."
But then, moments after Pence criticized the idea of talking openly about what tactics America uses, Trump brought up his long-standing complaint that "we can't do waterboarding" but ISIS is chopping off people's heads.
5. Speaking from the heart
This is an actual exchange from the interview:
PENCE: Clearly this man is not a politician. He doesn't speak like a politician––

STAHL: He's done pretty well.

PENCE: He speaks from his heart

TRUMP: Well, I––I speak from my heart and my brain. Just so we understand.

PENCE: Right.

TRUMP: This is [Trump points to his head] maybe more important.
You can watch the entire interview in the video above, via CBS.
[image via screengrab]
— —
Follow Josh Feldman on Twitter: @feldmaniac
Have a tip we should know? tips@mediaite.com
Josh Feldman - Senior Editor