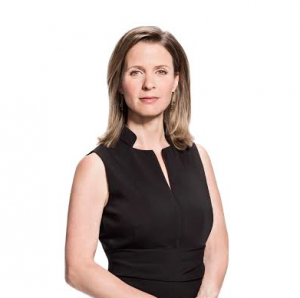 In the fickle world of cable television news, MSNBC anchor JJ Ramberg  has managed to do what many hosts dream of. She's kept her job. For the last 10 years, Ramberg has hosted a successful show called "Your Business." She is MSNBC's longest serving female host and second only to Chris Matthews. She's written a book. Oh, and in her spare time, the Stanford business school grad started her own company.  We, here at Mediaite, wanted to know how she has been able to pull it all off.
"Early on, we tapped into a topic that people were very hungry for," Ramberg told Mediaite.com in an interview. Her show, which airs Sunday mornings, focuses on issues affecting small business owners. Ramberg knows a thing or two about starting up a business. Her mother, her brother, and her husband are also all entrepreneurs. When she was young, Ramberg watched first hand the struggles, and rewards of starting a company.
"I watched my mom who had never had a paying job. She was a stay-at-home mom in her 40s. I watched her bootstrap their company from nothing to build into something sustainable," Ramberg said, "I had this very sort of great vantage point — I feel very lucky for it." The family company, JOB TRAK, a career site for college students, was eventually sold to Monster.com.
After graduating from Duke University, Ramberg became a receptionist for NBC's Nightly News, and then was an associate producer for Dateline before shipping off to California to complete her MBA at Stanford University. After that, she had a stint at CNN as business reporter before landing at NBC.
"The success of the show is based on the authenticity of it. We really understand what its like to run a small business. All of the exciting parts and the challenges that's why we relate to our audience," she said.
While her television career was in full swing, Ramberg also managed to find time to start a company with her brother Ken Ramberg. GoodShop.com is a search engine for shopping deals that donates 50 percent of revenue to the charities and schools. She says she came up with the idea while reporting for CNN in New Orleans during Hurricane Katrina.
"Seeing what was happening all around me made me believe more than ever that I needed to do something that would help not only these people and these cities, but all the causes that need so much support around the country," she said.
As part of her weekly show, she highlights small businesses, but also gives advice to entrepreneurs. We asked her to pass along a few tips:
"You have to do some soul searching. Can you handle it? No guranteed paycheck," she said, "Also, think about it, is there really a market for what you want to start?"
Ramberg's show airs on Sundays at 7:30 a.m. on MSNBC.
"I truly do love it, I feel very lucky. It is true passion of mine," she said.
Have a tip we should know? tips@mediaite.com