The Art Of Trolling: MSNBC's Now Becomes The Network's Most Controversial Show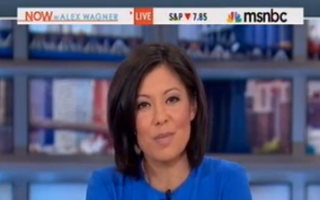 In October of last year, Mediaite wrote that MSNBC's midday program Now signified a trend: the left-leaning network had abandoned the once vaunted claim that it broadcasts only neutral news and information in the dayside. As the months passed, however, Now has not just abandoned any pretense of objectivity, but has overtly courted partisan controversy, hosting some of the network's most inflammatory guests and coaxing inflammatory statements out of even the guarded of news makers and opinion leaders. For 2013, Now has become the network's most controversial program – by far.

The unashamedly progressive but often measured Washington Post economics blogger Ezra Klein typified the trend towards unconstrained and promiscuous antagonism from guests and hosts alike in his appearance on Now on Wednesday.
After describing the prospect of reaching the debt ceiling as a "hell-storm of epic proportions" – a considered and restrained interpretation of events to be sure – Klein, coaxed by host Alex Wagner, went on to describe fiscal conservatism as the unlearned ravings of antediluvian barbarians.
"It reminds me of the late 1800s and the early 1900s when leeching was the preferred medical treatment," Wagner said of fiscal responsibility. "That's effectively the strategy that the GOP has taken."
"But at least they had some evidence in the 1800s and they thought leeching worked," Kline tagged to the chuckles of Now's panel.
While the subject matter that Now tackles is almost always heady and policy-based, the way in which those topics are addressed has become increasingly juvenile. How else would you describe the above other than a transparent effort to get a rise out of the audience – or, in the vernacular used by the most provocative denizens of the internet's ubiquitous comment threads, trolling?
But this is just the latest example of Now's tendency to court controversy. In the few weeks that have elapsed since the start of the new year, Now has amassed a "greatest hits" collection of provocative and offensive comments.
The panel program burst out of the gate on January 4 accusing appointed Sen. Tim Scott (R-SC) of benefiting from Republican "affirmative action." Dismissive and insulting as that is, it was almost topped within the same segment. Less than one minute later, Wagner very nearly said that it was her desire that former Rep. Allen West (R-FL) receive some violent comeuppance after suggesting that the Democratic Party maintains its hold over black voters through guilt, intimidation, and emotional blackmail. She stopped herself mid-sentence, perhaps knowing that such a statement would violate even Now's code of conduct.
On January 29, former Democratic strategist-turned-MSNBC guest host Karen Finney took to the set of Now to decry the use of "hateful language" by "those crazy crackers on the right." The irony and irresponsibility of this sentence – relayed in a single breath – appeared lost on both host and panel guests.
The following day, in keeping with Now's seeming desire to become a parody of excessive whinging and hand-wringing over society's perceived ills regularly displayed by only the most competitive of progressives, the program's host and guests devoted an entire pre-Super Bowl segment to the subjective necessity of regulating violence in football (from high school to the NFL).
On February 7, Wagner went after the House Majority Leader Rep. Eric Cantor (R-VA) who, while defending his conference's opposition to a version of the Violence Against Women Act composed in the Senate, unequivocally stated his desire to see some form of the VAWA passed. Wagner said that Cantor's disingenuous support for domestic abuse legislation was betrayed by his Southern accent.
"I just think you shouldn't have Eric Cantor and his, sort of, dripping Virginia drawl, which – and he has been a major roadblock to this seeing the light of day on the House floor – it's so unconvincing that they are really making violence against women, abuse directed at women, a priority with that kind of rhetoric and these kind of optics," Wagner said.
Lest you think that this program only targets conservatives with their provocations, moderate Democrats and President Barack Obama's supporters also enjoy their turn in Now's barrel. On February 14, Now invited Sex and the City actor and honorary climatologist Chris Noth on the program to lambaste the president for not halting private oil and natural gas exploitation. "We need radical, radical decisions now," Noth said.
"Nature isn't waiting. They don't care about treaties. Physics and science don't care about treaties or laws," Noth added. For a program that spends so much time discussing the procedural aspects of governance and legislating, Noth's disregard for both when discussing climate change did not appear to faze any of Now's panelists or the host.
Don't tell Chris Matthews, but MSNBC has a new leader in the race to be the network's most controversial show. Now has made its mark in the cable news universe — in what is still technically the network's straight news block – trolling the nation on an almost daily basis.
> >Follow Noah Rothman (@NoahCRothman) on Twitter
Have a tip we should know? tips@mediaite.com