'The Bangover': Jon Stewart Investigates Whether Hiring More Women Would Have Prevented Secret Service Scandal
Jon Stewart: Would Hiring More Women Have Prevented Secret Service Scandal?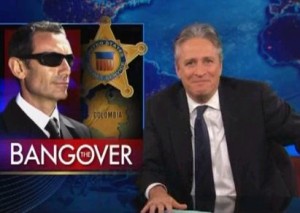 The Secret Service scandal provided Jon Stewart an opportunity to revisit none other than the issue of women. On his show Tuesday night, Stewart took a look at whether more women in the service would make a difference for the better.
Taking a jab at the agent who was also on Sarah Palin's security detail in 2008 — and posted photos on Facebook, joking that he was "checking her out" — Stewart asked, "How the fuck does a Secret Service guy have a Facebook page where he posts pictures of himself guarding political figures?" He added, "What, are Secret Service guys on Foursquare, too? Hey, just checking in at the president's previously undisclosed location!"
Stewart then went on to note comments from those who wondered whether more women in the service would have resulted in a different situation. Think of the money we'd save from paying them less!
He then turned to correspondent Samantha Bee for her perspective. "Once again," she said, "what a great deal for women. Don't bother reforming your agency's training program or establishing a 'no assholes on Facebook' rule — just hire a couple of special female agents in charge of buzz kill." Bee declared, "Special agent Nagatha Christie is on the case!"
Aren't men offended, Stewart asked, by those implying that "a group of men can't go away together and not try to bang everyone within 100 feet?"
"But that is true," she noted. You can't deny women "are a civilizing influence."
…And then she was joined by Jessica. What is she doing? "Everything and everyone […] Donde esta la beefcake-io-teca?" Turns out they were "fucked up last night" — drinking with Old Hitler! With photographic evidence! Scandalous! Whoops.
Take a look, via Comedy Central:

Have a tip we should know? tips@mediaite.com