The Beagle Has Landed: Ed Schultz Introduces The World To Rex The 'Republican-Hating' Dog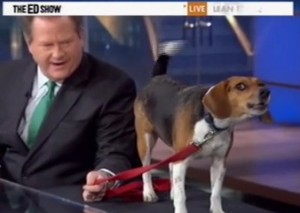 In what was probably the eighth or ninth iteration of the point-and-laugh-at-Fox White House Christmas card story, MSNBC host Ed Schultz managed to top them all, with an assist from a temporary co-host named Rex. Schultz set up the story by introducing the adorable animal shelter beagle, a stand-in for First Dog Bo Obama, whose presence on the White House card, and on a presidential shopping trip, prompted ridiculous criticism from the likes of Sarah Palin and Sen. John McCain.
RELATED: Rachel Maddow Ridicules Sarah Palin's Outrage Over White House Christmas Card
The great part, though, was Rex's reaction after Schultz returned from a clips package. The perturbed pooch steadily barked and howled at a stage-right monitor for the rest of the segment, as Ed tried to console him by saying, "The Republicans are gone."
Obviously, Rex was reacting to clips of other dogs onscreen (as any dog-owner will tell you), but it was a funny bit of ad-libbing on Schultz's part, and a winning performance by Rex. It's hard to tell from the audio, but I think Rex was saying that people ought to just keep Christmas in their own way, and let others keep it in theirs. Also, "Squirrel!"
The upshot to the segment is that Rex needs a home. At the end of the clip, Schultz displays the contact info for the shelter where Rex now resides, which should result in a new home for Rex and several of his friends. For our many conservative readers, don't be concerned, I'm sure Rex loves Republicans and Democrats equally. Either way, somebody should scoop Rex up before Phil Griffin gives him his own show.
Here's the clip, from MSNBC's The Ed Show:
Have a tip we should know? tips@mediaite.com