The Ben & Jerry's Cofounder Gave an Amazing Interview Revealing a Potential Bernie-Inspired Flavor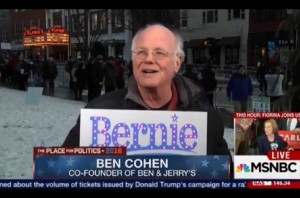 On Thursday afternoon ahead of a highly contentious rally in Burlington, Vermont featuring GOP frontrunner Donald Trump, the cofounder of Ben & Jerry's took time to do an interview with MSNBC and it's absolutely awesome. Branded with a proud "Bernie" sign for his own support of Vermont Senator Bernie Sanders, Ben Cohen spoke with MSNBC's Kate Snow, discussing his personally passion for the Sanders campaign. Cohen also made a pretty surprisingly reveal about a potential new Ben & Jerry's flavor that he's been imagining.
"Yeah I'm outdoors," Cohen replied in the most relaxed fashion imaginable. "This is what we call balmy in Vermont." He continued to discuss Thursday night's Trump rally very casually; despite the expected overload of thousands of ticket recipients who would not be allowed access, Cohen added "Yeah, I'm thinking about dropping by."
Although Cohen was critical of Trump — "He gets ahead by pushing other people down," noted the ice cream legend — the real flavor of the interview came after Snow asked Cohen about his allegiance to the self-described Democratic-Socialist Senator from Vermont. As for a potential Bernie Sanders-inspired ice cream flavor, Cohen admitted that Ben & Jerry's formerly did not have any plans to move forward.
However, Cohen did shed some light on what this flavor might look like with a pretty incredible description that speaks perfectly to the populist-driven grassroots effort of the Sanders camp:
"I came up with one. It's called 'Bernie's Yearning'. When you open up the pint, there's this big disk of chocolate on the top, covering the entire top, and below it is just plain mint ice cream. And the disk of chocolate represents the 90% of the wealth that has gone to the top 10% over the last ten years. The way you eat it is that you take your spoon — you whack that big chocolate disk into a bunch of little pieces and you mix it around and there you have it: 'Bernie's Yearning.'
Watch the above video from MSNBC.
[image via screengrab]
—
>> Follow J.D. Durkin on Twitter (@MediaiteJD)
Have a tip we should know? tips@mediaite.com