The Best Of The O'Reilly-Stewart Debates: Part 3- Is America A Center-Right Country?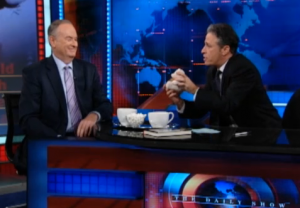 With the announcement that Bill O'Reilly will be squaring off with Jon Stewart on October 6 in a "rumble" at George Washington University, we at Mediaite thought it would be interesting to go back and highlight some of the most interesting and/or heated debates between the two cable news giants throughout the years. Both men have appeared on each other's shows from time to time, and whenever they face off, the end result is nothing if not wildly entertaining.
This Daily Show interview, just days after President Obama won the 2008 election, opened with some fun banter over O'Reilly's book A Bold, Fresh Piece of Humanity. O'Reilly shared some stories about being disciplined by nuns, but Stewart was quick to turn to the recent election. He told O'Reilly that he was "worried" for him, playing clips of O'Reilly saying that he's incredibly "fearful" of an Obama presidency.
Stewart created a "safe zone" for O'Reilly, complete with hot cocoa and a teddy bear called Mr. Snuggles. O'Reilly admitted that the last four years of the George W. Bush presidency made him equally concerned about the country, telling Stewart "the whole federal government frightens me." O'Reilly explained that he and other pundits are fearful of Obama because they haven't seen what he's done and don't know what he's going to do.
In the second half of the interview, Stewart asked O'Reilly about the prevailing notion that the United States is a center-right country. O'Reilly told Stewart it only sounds wrong because Stewart has never left New York, and if he ever went to the center-right states, "they would stone you to death." O'Reilly argued that the U.S. is center-right because "we respect traditions in America." Stewart countered that one of the biggest American traditions is the "progression of individual freedoms" over the centuries, citing gay marriage as the "next step" in the progression.
O'Reilly dismissed Stewart's argument as a "Greenwich Village opinion," which Stewart immediately called him out on. O'Reilly said Stewart was looking at the country through a prism. Stewart interrupted, "Of rational thought!" Stewart told O'Reilly that he sounds like a "labels guy," and he's just trying to explain "the thought behind the labels."
Watch the video below, courtesy of Comedy Central:

—–
Follow Josh Feldman on Twitter: @feldmaniac
Have a tip we should know? tips@mediaite.com
Josh Feldman - Senior Editor