The Best Of The O'Reilly-Stewart Debates: Part 4- Regular Folks, Tea Parties, And The Rally To Restore Sanity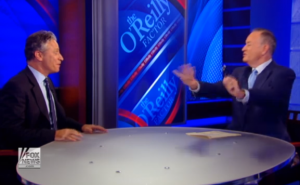 With the announcement that Bill O'Reilly will be squaring off with Jon Stewart on October 6 in a "rumble" at George Washington University, we at Mediaite thought it would be interesting to go back and highlight some of the most interesting and/or heated debates between the two cable news giants throughout the years. Both men have appeared on each other's shows from time to time, and whenever they face off, the end result is nothing if not wildly entertaining.
O'Reilly abruptly began this September 2010 interview with a simple "Stewart's back," and asked the comedian what he thought of President Obama, two years later. Stewart admitted he thought Obama would do more in office, arguing that in 2008 he thought the U.S needed a "more drastic" change of national policy and Obama was a better representation of that than John McCain was. O'Reilly suggested that Obama distances himself from the "regular folks," which Stewart found confusing. Stewart told the Fox News host that it sounds "meaningless" to attack Obama over something like that. He said, "You're not making any sense!" O'Reilly shot back that he was making sense, "you just can't process it."
Stewart transitioned to the tea party and how conservatives were quick to pile on Karl Rove after he had the gall to suggest Not-A-Witch Christine O'Donnell might not be the best chance for the GOP to win the Senate race in Delaware. Stewart argued that the conservative establishment incorrectly presumed they would be able to capitalize on the rising tide of the tea party.
O'Reilly then brought up Stewart's Rally to Restore Sanity and asked him what the purpose of the event is. Stewart said that he always hears people lamenting that their views are not adequately represented by the extremists featured most prominently on cable news. He invited O'Reilly to come down to D.C. for the event, declaring that he "still sees good" in the deepest pits of O'Reilly's beating heart. O'Reilly worried about getting a "contact high" from all the drug users and "stoned slackers" that would be at the rally.
O'Reilly used the second part of the interview to ask about Stewart's new book Earth (The Book), a "comprehensive guide to how we got here." They teased each other about their showbiz egos, including a mirror O'Reilly keeps beside him and Stewart's recent appearance on Oprah. Reflecting on the political makeup of Fox News, Stewart told O'Reilly he should be considered the liberal at the network. Most of this second segment consisted of O'Reilly and Stewart attempting to crack each other up with the sharpest of jabs.
Watch part one:
And part two:

—–
Follow Josh Feldman on Twitter: @feldmaniac
Have a tip we should know? tips@mediaite.com
Josh Feldman - Senior Editor