The Best Of The O'Reilly-Stewart Debates: Part 5- 'Common' Sense And 'Selective Outrage At Fox'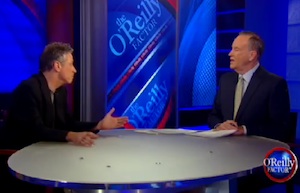 With the announcement that Bill O'Reilly will be squaring off with Jon Stewart on October 6 in a "rumble" at George Washington University, we at Mediaite thought it would be interesting to go back and highlight some of the most interesting and/or heated debates between the two cable news giants throughout the years. Both men have appeared on each other's shows from time to time, and whenever they face off, the end result is nothing if not wildly entertaining.
Remember when Fox News threw a fit over the rapper Common being invited to the White House? Stewart found the controversy to be the completely overblown, and said as much on his show. O'Reilly invited Stewart on the Factorin May of 2011 to tell him directly how shocked he was to see Stewart acting like it was okay with the White House welcoming a rapper who sympathized with a cop-killer. This interview is notable for being one of the more contentious the two men have had in their illustrious careers.
Stewart argued that it seemed like Common was not celebrating a cop-killer, but "celebrating somebody he thinks was wrongly convicted" of killing a police officer. O'Reilly said that giving someone with that viewpoint a platform at the White House was a "bad decision." Stewart said the invitation was not the same as "tacit approval" of everything Common has said and done in his life.
After expressing that he has "mad love" with Obama, Stewart made the point that Bono wrote a song about a convicted cop-killer and was invited to the White House. O'Reilly told Stewart he was "petty-fogging," a charge Stewart through back at him when he tried to justify Bono's appearance. Stewart cited Bob Dylan doing the same thing, and argued that there is "selective outrage at Fox" that sets off "only when it sets the narrative that suits them."
Stewart told O'Reilly that he has to be "consistent with your outrage." When O'Reilly tried to argue why Common's situation is unique, Stewart told him he was trapping himself in a "smaller and smaller box." O'Reilly shot back that it was particularly bad for President Obama to invite Common because of his association with individuals like Reverend Wright and Bill Ayers. Stewart told O'Reilly succinctly, "It's a poetry slam. Who gives a crap?"
Stewart got more aggressive with O'Reilly towards the end, telling him that instead of paying lip service to the idea that we should be honoring cops and not their killers, he should actually do something important like supporting an assault weapons ban. Stewart told O'Reilly it "saddens me to see you wasting your time" with the controversy over Common.
Watch the video below, courtesy of Fox News:
Have a tip we should know? [email protected]
Josh Feldman - Senior Editor