The Best Part Of John Oliver's First Week Hosting The Daily Show Had Nothing To Do With John Oliver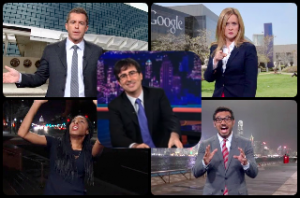 Let me begin by saying that I think John Oliver is more than holding his own as temporary replacement host for Jon Stewart on The Daily Show. With his first week behind him, I think Oliver can feel fairly confident that he's not going to "destroy the most beloved show on American television." But at the same time, nobody thinks Stewart is in any danger of being losing his job when he returns this fall from making his directorial debut.
As Oliver predicted to David Letterman and various other media sources leading up to his first week, he wasn't that worried about anchoring the fake news segments that open the show. It was conducting the celebrity interviews, a particular skill he'd never had the opportunity to master, that had him worried. It appears that his concerns were at least partly justified.
While he's made his main segments on the NSA leaks and France's gay marriage protests look fairly effortless, the interviews he's conducted so far have lacked the ease of Stewart's. His Monday night interview with Seth Rogen was by far the most rocky. This was especially the case when Oliver asked the actor what he thought of the NSA revelations and Rogen replied that he "hadn't really thought about it until right now, honestly." The one exception would probably be his chat with Veep creator Armando Iannucci, who, as a fellow-Brit, was able to connect with Oliver in a uniquely special way.
But the hands-down highlight of Oliver's first week came courtesy of the rest of "The Best F#@king News Team Ever," who united to usher the new host into his privileged position by taking him down a peg one by one. The conceit of the second segment Monday night was that instead of helping Oliver report on the government's surveillance operations from their respective locations "in the field," the correspondents revealed how "betrayed" they felt by the fact that they didn't get the coveted hosting gig themselves.
Jason Jones said that instead of risking his life by traveling to Iran, he should have "just stayed here and sang fucking chimney sweep songs."
Samantha Bee mocked Oliver's British accent and said, "10 years I've been here talking American, only to be leap-frogged by a godforsaken foreigner."
Jessica Williams told Oliver she was "having trouble hearing him over this glass ceiling."
Al Madrigal said that like Edward Snowden he'd traveled to Hong Kong for its embrace of free speech, "because I figured it would be the safest place to be when I told you to go fuck yourself."
And Aasif Mandvi revealed that he had seen data that showed him "what a terrible job" Oliver was doing so far, pointing out that BuzzFeed had already posted the "27 Worst Moments Of John Oliver's First 6 Minutes Hosting The Daily Show."
While the segment didn't do much to diminish Oliver, it perfectly demonstrated the deep bench of talent The Daily Show has on hand. Seeing all five of the news team members come together for the sake on this one joke showed how under-utilized they really are.
Jon Stewart's summer hiatus will give John Oliver plenty of time to shine. But it will be a missed opportunity if it doesn't also give Jones, Bee, Williams, Madrigal and Mandvi extra screen time to show America everything they're capable of. Perhaps Comedy Central is grooming Oliver for his own Colbert Report, but each one of these other performers deserves the same opportunity. And as this segment showed, they know it.
Watch video below, via Comedy Central:
—
>> Follow Matt Wilstein (@TheMattWilstein) on Twitter
Have a tip we should know? tips@mediaite.com