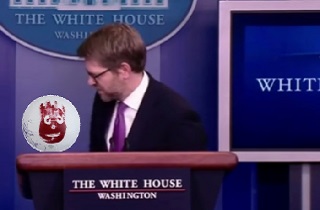 On Monday, Mediaite was first to report that White House Press Secretary Jay Carney returned from vacation sporting a new beard, but what began as a lighthearted detail, of interest to rabid White House-watchers, quickly became a national media sensation. On its way to media immortality, however, Carney's beard ran straight into the media Sharknado that is Bridgegate.
When Jay Carney took to the podium for his first post-vacay daily briefing, the press corps' reaction to Carney's beard was hardly surprising. For some reason, human beings are instinctively driven to always break balls about any variation in facial hair. It's an evolutionary imperative every bit as powerful as hunting and gathering.
What was a bit surprising was how far and wide that instinct extended, as Carney's beard became a national sensation. On Monday and Tuesday, cable news networks, national TV networks, and even local news operations from Miami to Hawaii mined Carney's face for news copy.
Then, on Wednesday, blockbuster developments in the Bridgegate scandal all but blotted out coverage of Carney's beard, although one network did continue to cover the whiskers for several more days. (Can you guess which one?)
Reaction to Carney's new look ran the gamut, from a disapproving Laura Ingraham, to one local news producer who found it so Press Sexy, it reportedly made her squeal. In honor of the Carney beard's deferred superstardom, here is an unbelievable supercut of the coverage, including a bit from Dennis Miller, who is still getting his marijuana references from 1982, where he left the Trapper-Keeper full of his last decent material. This cat's material is so dated, it has its own landing page on eHarmony. I don't want to get off on a rant here, but the craft services table on the set of Elmer Gantry is fresher than this guy's act. Miller's such a fossil, he was plagiarized by Ron Paul.
Anyway, here is just a small sample of the coverage, which you can play next time you're asking yourself why the news never covers whatever story you think is important:
Have a tip we should know? [email protected]