'The Cabal Against the Bankers is Over': Trump Adviser Defends Trump's Goldman Sachs Pick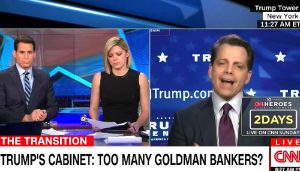 Earlier today, it was announced that President-elect Donald Trump had chosen yet another Goldman Sachs veteran to be part of his administration. Following the selection of former Goldman Sachs bankers Steve Bannon and Steven Mnuchin to be his chief strategist and Secretary of Treasury, respectively, Trump tapped Goldman president Gary Cohn to be his director of the National Economic Council.
Obviously, these selections are facing scrutiny and criticism due to Trump's rhetoric against Goldman Sachs during the campaign. Not only did he personally target the financial giant with ads during the election while promising to 'Drain the Swamp,' he also hammered both Ted Cruz and Hillary Clinton for their ties to the company.
In response to the selection of Cohn and others, Trump transition adviser Anthony Scaramucci appeared on CNN this morning and offered not only a full-throated defense of Cohn but lauded Goldman Sachs and Wall Street.
Scaramucci, who previously worked for Goldman Sachs himself, was asked about Trump having been critical of Goldman Sachs but now filling key positions with former employees. He said this showed the incoming POTUS was bringing the country together.
"I think the cabal against the bankers is over," Scaramucci stated. "What Mr. Trump is really trying to do right now is put the country together."
When discussing the company itself and his time there in the past, Scaramucci was over-the-top with his praise.
"Goldman Sachs was a phenomenal place when I was there," he remarked "It is still a phenomenal place."
Scaramucci repeated his desire to see the "whole banker cabal and hatred" die down over the next few years. Regarding Cohn, he noted that the Goldman Sachs prez is "a brilliant guy" and "one incredible person."
Watch the clip above, via CNN.
[image via screengrab]
–
Follow Justin Baragona on Twitter: @justinbaragona
Have a tip we should know? tips@mediaite.com