The Cable News Disconnect: 'Happy' vs. 'Merry' and the Tawdry Culture Wars
Rothman: 'Happy Holidays' vs. 'Merry Xmas' and the Tawdry Culture Wars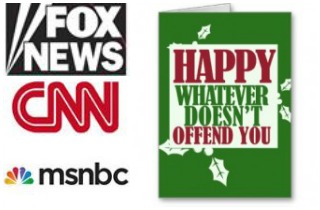 One simple truth that cable news as an institution appears to have avoided internalizing is that Americans, and people in general, do not enjoy mistrusting and disrespecting their neighbors. This reality cannot, in fact, be fully absorbed lest it threaten the very business model on which most cable news outlets are founded. The perpetual grievance machine mobilizing and concentrating the frustrations of many against this or the other group generates intensity, but it also alienates marginal viewers.

The philosophical identity crisis surrounding the battle over whether it is more appropriate to say "Happy Holidays" or "Merry Christmas" is symptomatic of the tawdry culture wars. This nonsensical and banal issue is the latest to prompt a rending of garments across the cable news landscape. A variety of primetime Fox News hosts have devoted countless hours of programming to the belief that being wished a "happy holiday" is somehow a great injustice. Similarly, liberals in competing media outlets have taken to provoking conservatives' umbrage rubbing their noses in the many ways in which their sensibilities are repeatedly offended.
But nothing is so offensive to cable news non-viewers as what they often correctly perceive to be cultural arbiters' misdirected focus on trifling pabulum. This is not merely a matter of opinion. A Pew Research Center study found that when asked whether it matters or not if they are wished a "Merry Christmas" or a "Happy Holiday," a plurality (47 percent) said "It doesn't matter."
More indicative of the social dysfunction being brought about by the politicization of every aspect of American life, a phenomenon unhappily perpetuated by cable news, the vast majority of Republicans told Pew pollsters they favor a Christmas greeting while the majority of Democrats embraced "less religious" holiday-related well-wishes.
This culture war is a perennial one. It is resurrected each year by cable news pundits in the regular effort to provoke and annoy their ideological opponents while simultaneously providing loyal viewers with a rationale to feel both superior and besieged. This year, Americans were treated to a newly racial element in the traditional holiday efforts by cable news pundits to bifurcate the nation with a weeks-long debate over the skin color of the fictional Christmas figure, Santa Claus.
These spats are straining the public's ability to believe that cable news is a destination for credible and serious reporting and analysis. Which leads to the discussion of an even more vexing problem for cable news as an industry; 2013 was the year that observers identified a cable news "saturation point."
"Fox figured out how to get a core set of viewers to watch their programs on a nightly basis, as opposed to tuning in to cable when there was breaking news," Robert Thompson, a television expert at Syracuse University, told the Pew Research Center early this year. "But it may be that those numbers are settling in to what will be the general size of the audience. They can't expect constant growth."
But while Fox News is at least stable since the expected dip in viewership following the conclusion of the 2012 election cycle, its competitors have continued to shed viewers throughout 2013. CNN's dayside and morning shows have, on average, achieved parity with MSNBC in the ratings by virtue of that networks' programs having jumped into covering the culture wars, but each network is competing for an increasingly shrinking universe of viewers.
While the reasons for this condition are myriad and events do more to drive cable viewership than programming, the tune out factor should not be discounted. The culture wars may be captivating the regular cable news audience, but it is scaring away new and marginal viewers.
The culture wars are cheap. One need not have any demonstrable expertise in order to have a perfectly valid opinion on whatever issue is presently animating guests and generating breathless commentary. One need only have some lived experience and an oversized sense of outrage. Its easy television, which is rewarded by captivated loyal viewership. But it may be driving away more Americans than it is drawing in.
[Photo via Fox News, CNN, MSNBC, DefendChristmas.com]
— —
> >Follow Noah Rothman (@NoahCRothman) on Twitter
Have a tip we should know? tips@mediaite.com