'The Child Was at Risk': Zoo Director Holds Presser on 'Tough' Decision to Kill Gorilla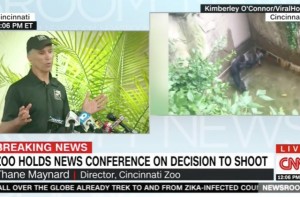 The Cincinnati Zoo is facing a whirlwind of controversy today over the decision to fatally shoot a gorilla who had a 4-year-old boy in its grip, and the zoo's director held a presser this afternoon to defend their decision.
"The child was being dragged around," Thane Maynard said this afternoon. "His head was banging on concrete, this was not a gentle thing. The child was at risk… So when it was determined that the child was being injured… we had to make a decision."
He got a lot of questions from reporters about whether the zoo was negligent and whether there were sufficient barriers. Maynard repeatedly insisted that the exhibit it safe and the barriers are secure, but there's always the chance people can get past them.
He declined to blame anyone for what happened, saying, "Politicians and pundits point fingers. We live in the real world and we make real decisions."
Maynard did get in some criticism of the people triggering the massive online outrage:
"I know that after it is over and the child is safe, it's easy like a Monday morning quarterback to look at it and say, 'Wow wow wow, don't we need to do this differently?' The people that say that––a) don't understand primate biology and silverback gorillas and the danger the child was in, and b) were not there at an important time to make important decisions."
Watch above, via CNN.
[image via screengrab]
— —
Follow Josh Feldman on Twitter: @feldmaniac
Have a tip we should know? [email protected]
Josh Feldman - Senior Editor