"The Clock Was Ticking:" How CNN's Anderson Cooper Landed Exclusive With Autism "Fraud" Doctor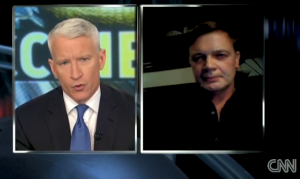 It was the big breaking news of the night, and only CNN's Anderson Cooper had the key interview–the man at the center of the story: Dr. Andrew Wakefield, whose infamous study linking childhood vaccines to autism had just been declared an intentional "fraud" by a British medical journal.
At the top of AC360, Cooper had the story–and the "get." What followed was an at times bruising interview via Skype–exactly the kind of newsy, tough "Keeping Them Honest" segment that CNN boss Ken Jautz said he wanted to see when he was named to the CNN post last year.

So how did Cooper end up with the exclusive? He says it was simply good old fashioned hustle on the part of AC360 staffers, who relentlessly worked contacts and leads Wednesday evening, trying to track down the doctor to convince him to do an interview.
"Our team tracked down Dr. Wakefield's family, who told us he was in Jamaica and would try to reach him regarding our request for an interview," Cooper told Mediaite. Not long after, a phone call came in from Dr. Wakefield's wife, saying the embattled doctor indeed was willing to talk–but he could only spare thirty minutes to do so.
"The clock was ticking," said Cooper, who's team scrambled trying to find a way to get the doctor in front of a camera for the exclusive. Producers in New York quickly realized it wasn't going to happen. "There were no satellite uplinks available that quickly, so we convinced him to talk to us over Skype from his laptop."
The result–an interview that was great television and broke news on the main story of the night, forcing competitors to mention the doctor's comments as coming from "an interview with CNN." It's worth watching.
Watch it here, from CNN:
Have a tip we should know? tips@mediaite.com