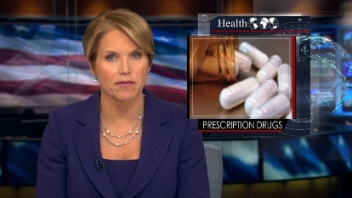 The passing of Walter Cronkite brings back memories of a time when the CBS Evening News not only dominated the ratings, but the news conversation as a whole. It also highlights the current state of the once influential newscast, as it sits in a clear third place in the ratings.
There are many reasons for this: here's why the CBS Evening News is struggling in the ratings, how it can turn things around…and why none of it is Katie Couric's fault.
Over the past couple weeks, we've talked to several people in and around the program who can provide varied insight into what's happening at the newscast. As we spoke to people like former CBS Evening News executive producer Rome Hartman (currently executive producer of BBC World News America) and network news analyst Andrew Tyndall of the Tyndall Report, a clearer picture emerged about the roadblocks facing the program and some ways CBS can turn around. With their help, here is our take on the problems, and solutions, for a newscast that has seen record low ratings as recently as last month:
CBS Problem #1: Politics
There's no denying CBS News is viewed by some as a left-leaning network, and it has nothing to do with Couric. "The perception of the right-wing existed about CBS way before she began at CBS," says Tyndall. "It might go back as far as Murrow taking on McCarthy, and certainly as far back as Rather facing down Nixon or Rather going after George Bush Senior on Iran Contra." (Even Cronkite has his detractors on the right.)
But it is without a doubt Dan Rather who cemented the ire of many conservatives, most notably with his 2004 report about the Killian documents. Now, not every Republican is an anti-Evening Newser. And its true that there is a general feeling among many on the right that the media as a whole is biased. But with nearly half the country voting GOP, it doesn't help bring viewers in when there is a public perception of unfriendliness toward the party.
Making matters worse is the fact that the CBS prime time viewership is actually more red than that of NBC and ABC. This makes it even more difficult to see cross-viewership between the news and entertainment products. The enormous success of CBS in prime time actually ends up working to the detriment of the Evening News.
CBS Problem #2: Lead-in
While local news affiliates lose viewers across the board, it doesn't detract from the fact they are tremendously important as a lead-in to the evening newscasts. A strong 6pm local newscast (or 5pm in some markets) is key to keeping eyeballs on the national product. A point made by Tyndall was that in many of the bigger markets, the CBS news outlet is particularly weak. A couple examples: KCBS-TV in LA and WBBM-TV in Chicago are floundering in the ratings, and hurt CBS immensely in those markets. (Interestingly, in New York, there's the opposite effect: WNBC's low ratings has brought Brian Williams' Nightly News to 3rd in the Big Apple.)
But the problems facing the CBS Evening News aren't completely unique. There are also the significant issues facing all networks, not just CBS:
Evening News Problem #1: Competition
"I don't have the numbers in front of me, but cumulatively the three network evening broadcasts have been declining about 1 million viewers each year for about a decade now," says Hartman. "That's a very sad, but seemingly unstoppable, trend line."
Tyndall echoes those sentiments. "It's in decline, that's just a given," he says. "There's nothing in the long run that anyone can do about that. There are forces at play that have nothing to do with the evening broadcasts."
Namely, 24-hour cable news networks and the Internet. These outlets may not have the gravitas of the evening newscasts, but they have the immediacy. That's a problem that cannot be overcome.
Evening News Problem #2: Audience
The audience age of evening newscasts is on the rise (now over 60 years old), and the number of people watching the evening newscasts is on the decline. What does that mean? Well, as Hartman puts it bluntly: "People that watch the evening news are dying and they're not being replaced."
The CBS average age is highest of the three networks.
Evening News Problem #3: Time
Because of the work schedules of Americans now, fewer and fewer people are able to get home by 6:30pm (or earlier in some markets). The evening newscasts are not going to be changing the start time, so the audience is bound to decrease simply due to not being around to watch them.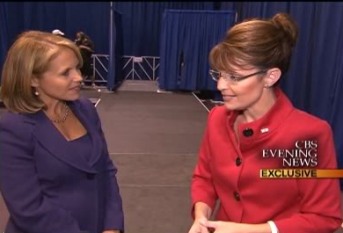 So! How does CBS go about solving these problems? Here are a few solutions.
Solution #1: Buzz
When asked about solutions, both Hartman and Tyndall jumped to Couric's work during the 2008 presidential campaign – and Gov. Sarah Palin.
Says Hartman: "She did the best work of any of the evening news anchors during the political campaign. It was not just the Palin interview. If you look at the work Katie did all through 2008, it was really strong and innovative and smart and original and competitively, I think she was terrific. I think her instinct is to innovate and try new things."
Tyndall agrees, and points to the Palin interview as part of the reason for the network's bump in the ratings at the end of 2008: "You could argue the success at the end of last year was a result of buzz from the Palin interviews. The job of these newscasts, first and foremost, is to grow the non-broadcast audience faster than they're losing the broadcast audience. Palin is the model…To get three or four viral online hits a year which showcase Couric's special skills, get a buzz about her, get people emailing clips around their social networks, that's going to be the marketing device: to get people re-sampling the CBS Evening News."
Couric's interview with Palin was an iconic moment that put on tape the narrative being woven by her critics. It also showcased Couric's strong interviewing skills – and of course, did little to fight the liberal bias storyline. These types of interviews and moments are not easy to plan. In many ways, they have to come to Couric as much as she must seek them out. But when the opportunity presents itself, it must be all hands on deck in the same way the Palin interview played out, and was disseminated across the Web and into the national conversation.
She could work towards solving the political problem through these means as well. Let's say she gets an interview with President Obama, and hits him with some tough questions that severely throw him off his game. Like, 'Drudge flashing sirens' throw him off his game. It becomes a moment – and one the CBS Evening News must capitalize on and own.
Solution #2: Integration
No one can discount how incredibly helped the NBC Nightly News is by MSNBC. Lacking a 24-hour cable news outlet is something both CBS and ABC are hurt by, and CBS must find other ways to combat this problem. One way is to showcase Couric, and other Evening News elements on the local affiliates. This could serve to boost the struggling local news outlets in some cases, and also raise the profile of Couric. Featuring Evening News pieces, reporters and more on the late night local newscasts, 11pm in most markets, could showcase the national product in a new way.
In thinking about integration of a different kind, CBS News does seem to have one day perfected – Sunday. "Sunday Morning and 60 Minutes are better than ever," says Tyndall. "Older than ever, but better than ever." Couric does appear periodically on 60 Minutes, but it is through these successful outlets that the Evening News could help itself expand on the 22-minutes allotted each weekday.
Solution #3: Change the metrics
When all else fails, find a new measuring stick. Look, when CNN began talking about Fusion data, they did so because the Nielsen metric that combined television viewership and Web readership made them look better. And sure, it got panned by its competitors. And yes, it could be all talk and Nielsen Fusion may never catch on.
But is it so crazy? Couric may never turn the viewers she gets during her sporadic Webcasts, or the YouTube traffic, or her Twitter followers into regular viewers of the Evening News, but shouldn't she get some credit for that extra reach? (She clearly does in the Power Grid – which is why she's the only evening news anchor in the Top 5 right now.) There may come a time when ratings actually do take into account what happens online. But until that occurs, it doesn't mean the facts can't be a PR point.
There's something else too – and it relates to history. Maybe we need to stop all the comparisons to The Way It Was, and step back from it all. As Hartman says: "Despite the trends, when you put all the cable news networks together in their prime time audience it doesn't come close to the last place network's evening news program on most days. They still have enormous reach and do great work…We all have to be careful about writing the obituary of evening news."
—–
• Follow Steve Krakauer on Twitter
Have a tip we should know? tips@mediaite.com