The Cycle Asks Question on Everyone's Mind: Isn't Bergdahl's Story Just Like Homeland?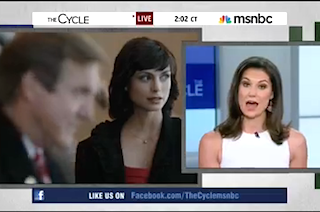 The moment news broke on Saturday that an American prison of war would be coming home after five years spent in captivity with the Taliban, the first thing that crossed many people's minds had to be: Wow, that sounds exactly like the plot of Showtime's Emmy Award-winning series Homeland. Most people also probably thought it was too soon to make the connection, but a series of "Bergdahl Homeland" on Twitter shows just how prevalent the thought has been.
Well, on Tuesday afternoon the analogy roared into the mainstream during the opening of MSNBC's The Cycle. Host Krystal Ball reviewed the latest details to emerge from the Bowe Bergdahl story before using the Homeland connection to make the story just that much more relatable for viewers.
"For the generation of Americans who have come of age during the wars in Afghanistan, Iraq and the Persian Gulf, in a lot of ways our only experience with a war on terror POW is through the Showtime series Homeland," Ball said. She explained that on the show, the character of Nicholas Brody is celebrated as a "hero" when he returns from eight of captivity and "struggles to adjust back to daily life." For anyone who has seen the show, that's a bit of an understatement.
"The storyline then shifts to speculation that Brody might not be the hero the fictitious U.S. military says he is," Ball continued. "Now clearly, Bergdahl is not a Jihadi sympathizer looking to assassinate the vice president," she added, as the photo of Bergdhal and Brody side by side appeared on the screen. "But many Americans are using Homeland as a frame for helping them understand what Bergdahl will face returning home to daily life."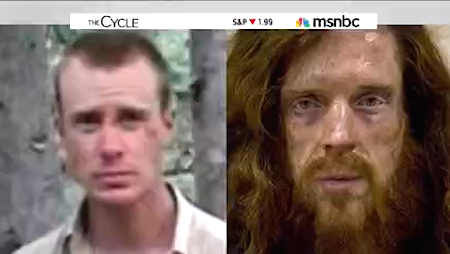 The only difference between Brody and Bergdahl is that the real life solider seems to have skipped over the "hero" phase almost completely, with various politicians and pundits — along with Bergdahl's former platoon mates — labeling him a traitorous "deserter" before he has even reached American soil.
RELATED: Dear Media: Don't Turn Bergdahl into Snowden with Hero vs. Deserter Narrative
One person who no doubt had the plot of Homeland come to mind as this story has developed is President Barack Obama, who has called the Showtime series one of his favorite shows. Obama even got Brody himself, Damian Lewis, to sign a DVD box set for him. As Lewis said in November 2012, he chose to sign it, "From one Muslim to another."
Watch video below, via MSNBC:
[Photo via screengrab]
— —
>> Follow Matt Wilstein (@TheMattWilstein) on Twitter
Have a tip we should know? tips@mediaite.com