The Cycle Hosts Gang Up on Ari Melber for Criticizing NSA's Foreign Spying Program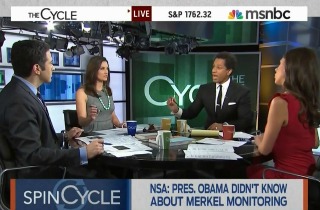 The hosts of MSNBC's The Cycle vehemently disagreed with their co-host, Ari Melber, on Monday after he strongly criticized President Barack Obama and his administration for maintaining a National Security Agency program that targeted the phones of 35 foreign leaders. Melber insisted that the NSA keeping its activities a secret from the president represents a grave threat to the country. His co-hosts found this sentiment to be an exaggeration of the problem the NSA poses.

Krystal Ball began the segment by saying she believed President George W. Bush's administration believed that anti-terror surveillance programs were wholly justified whereas Obama's administration is more "conflicted" about them.
Ball said that it was possible that the president was genuinely unaware these NSA programs because it does not reflect well on his administration to say that he did not know.
Melber asserted that it would be just as "bad" if Obama was unaware of these programs as it would be if his administration were actively misleading the public about the extent of his knowledge of these programs.
RELATED: Fox & Friends: Obama Should 'Stop Apologizing' For NSA Spying on Foreign Leaders
"They are not keeping the president and his senior advisors, according to their own statements, in the loop to conduct the very diplomacy and foreign policy we need to do," Melber said. "That's why this a scandal."
"We have to do this surveillance," Touré shot back.
"Why do we have to tap German?" Melber asked. "Do we think Germany is going to bomb us?"
"We don't know what they know in terms of what secret deals they might be doing with Iran," Touré countered. "We don't know what they're saying about the Eurozone behind our back."
Ball added that a segment of the September 11 terrorists operated out of Germany.
"We don't even understand why they do what they do," Abby Huntsman added. "It's a very grey world."
She added that this scandal does represent an embarrassment for the United States and that the president "has some serious mending to do."
"We're witnessing a surveillance-industrial complex that's increasingly going rogue," Melber concluded.
Touré blasted Melber, insisting that the NSA was not guilty of anything other than commonly accepted intelligence gathering tactics that have been standard procedure since the close of the Second World War.
Watch the clip below via MSNBC:
[Photo via screen grab ]
— —
> >Follow Noah Rothman (@NoahCRothman) on Twitter
Have a tip we should know? tips@mediaite.com