The Daily Beast Asks Whether Al Sharpton's TV Show Is A Product Of Affirmative Action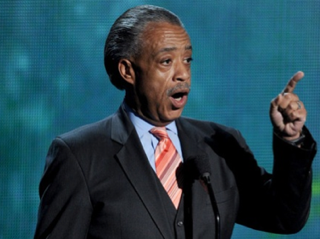 Al Sharpton's surprise resurgence as a cable news host seems to have come a bit out of nowhere– certainly to his predecessor and to many viewers. Given his previous forays into television, the Daily Beast's Wayne Barrett has penned a doozy of an investigative piece that proposes talent alone couldn't have gotten Sharpton the job: it was affirmative action and his support of the NBC/Comcast merger, Barrett concludes, that landed him the position.
Headlining a piece about someone who is soon to be one of the very few voices of color in cable news with the phrase "affirmative action" poses enough of a problem; that as the article proceeds, it becomes apparent that Sharpton's questionable ethics to acquire the position have far more to do with lobbying and money than race is another complication entirely. Add to that the fact that his predecessor, Cenk Uygur, was already an ethnic minority on the network, and the links between Sharpton, his racial activism, and his relationship with his new bosses feels like something of an impenetrable web of intrigue made even more inscrutable by the eye-catching headline.
But don't let the shiny words fool you– the crux of Barrett's thesis is that Sharpton is being rewarded for being one of the few minority voices in favor of the NBC-Comcast merger, not simply for being a minority voice. Noting that "his three prior attempts at hosting a show have flopped badly," Barrett posits that there is no particular commercial attractiveness to adding a host like Sharpton to a cable news lineup, snidely concluding that his profile isn't helped much by a a 2004 presidential bid "so widely seen as vacuous and uninformed that it earned him remarkably puny support, even among black voters." So why, then, would MSNBC even have him in the running?:
Sharpton has a long and well-documented history of leveraging his civil-rights profile for his own benefit. Grabbing a prime-time anchor spot in exchange for cheerleading for a controversial merger would be the capper on that career. It's gone remarkably unnoticed that Sharpton was the first major black leader to endorse the Comcast merger, which met fierce resistance.
Barrett goes on to show that one hand washes the other– Comcast has also made some significant contributions to Sharpton's National Action Network, as well– according to a spokesperson, $140,000 since 2009, when the merger was first proposed. The National Action Network, on their part, had honored MSNBC President Phil Griffin with an award this year, and, as mentioned before, Sharpton supported the Comcast-NBC merger staunchly when it was being attacked for potentially fostering less diversity in the media through a memorandum of agreement (MOU) also signed by the NAACP and the Urban League. As Barrett explains, "the MOU was significant because it countered opposition from Jesse Jackson, a variety of black organizations, and some black House Democrats." And here is where race finally comes into play in a concrete way: that MOU required the establishment of minority advisory councils, which Barrett finds strange that Sharpton declined to participate in:
The MOU required Comcast/NBC to establish minority advisory councils, and the Urban League's [Marc] Morial was named to chair the African-American panel. Sharpton's organization designated the Rev. W. Franklyn Richardson, who has chaired NAN's board for years, to sit on the council. Since Sharpton has frequently put himself on corporate councils, including even Walmart's, his decision to appoint Richardson suggests that, as far back as May, he was already angling for an MSNBC job, and knew he couldn't be both a council member and an employee.
Barrett pieces together enough of the puzzle to make a viable argument: Sharpton couldn't market himself as a successful host on his own, he must have brought something new to the table, and money and perks were being exchanged between the two entities fast and loose. What this has to do with affirmative action– the policy of actively pursuing minority hires to balance out past racial discrimination– is a question left unanswered, particularly when replacing a minority host with a minority host would do little to advance any such goal.
Have a tip we should know? tips@mediaite.com