The Daily Caller Calls Out Joe Scarborough for Potential NBC Rule Violations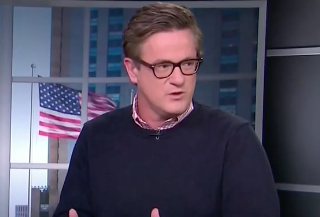 In an exclusive report over at The Daily Caller, new hire Betsy Rothstein alleges Morning Joe host Joe Scarborough potentially broke NBC rule violations regarding his paid speaking gigs.
NBC has a well-known policy of requiring its talent to donate speaking fees to charity in order to avoid conflicts of interest. According to Rothstein's "well-placed" source within MSNBC, however, Scarborough "may have been pocketing the proceeds from some of his many highly paid speeches" and possibly violating the unwritten rule of doling out favors — like appearances on your show — to the organizations who book you to speak.
For example, Rothstein cites a May 2013 speech Scarborough and co-host Mika Brzezinski gave at a conference sponsored by the Detroit Regional Chamber of Commerce. She notes that three months later, the group's CEO Sandy Baruah appeared as a guest on Morning Joe, during a special broadcast "live from the factory floor of one of the chamber's most important member companies, Ford Motors." The discussion topic, Rothstein notes: "What can Detroit do to earn more government bailout money?"
The story continues from there, as Rothstein notes how the Detroit Chamber published a "fanboy"-like profile on Scarborough and Brzezinski. "Joe and the Detroit Chamber clearly like each other. And now many in Joe's audience may also have warm feelings about the Detroit Chamber, since they've seen it promoted on his show," she posits before asking: "Is any of this unethical? As long as MSNBC continues to ignore the question, it's impossible to know for sure."
MSNBC and Scarborough did not return Rothstein's request for comment, and so she doesn't know for sure whether any of these instances were in violation of NBC policy, but they are "alarming" nonetheless, she wrote. Kevin Smith, the chairman of the ethics committee at the Society of Professional Journalists, reportedly found these revelations "stunning" and told Rothstein:
"I would challenge [Joe and Mika] to look into the camera and say, 'I attended this group's convention and they paid me $45,000.' If you revealed that information to the public, what do you think the public would think of the objectivity of their reporting? You don't tell them, that suggests to me that you are doing something unethical. There's an old adage: 'It's not the gift that's the problem, it's the expectations attached to it.' He gets paid handsomely, and in return, he gets to invite them on his show and never reveals to the public that there is a quid pro quo taking place."
We've reached out to MSNBC for comment on the matter and will update when we hear back.
— —
>> Follow Andrew Kirell (@AndrewKirell) on Twitter
Have a tip we should know? tips@mediaite.com