The Daily Caller Editor Grilled By CNN Anchor Over Menendez Prostitute Allegations: Were You 'Duped?'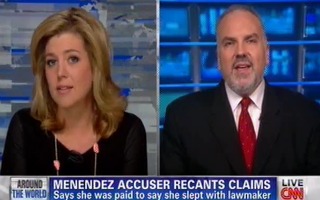 On Monday, the Washington Post reported that a story originally broke in The Daily Caller, which alleged that Sen. Robert Menendez (D-NJ) had patronized the services of Dominican prostitutes, was false. The Washington Post claimed that a prostitute in question was bribed to make that claim. The Daily Caller fired back at the Post, saying that the reporters misinterpreted the information contained within a Dominican affidavit they quoted extensively. On Tuesday, a CNN anchor severely grilled the executive editor of The Daily Caller over his charge that the Washington Post report was false.

RELATED: The Daily Caller Vs. Washington Post: Was Menendez Prostitute Bribed Or Did WaPo Identify Wrong Woman?
CNN anchor Brianna Keilar interrogated The Daily Caller Executive Editor David Martosko on Monday over his publication's willingness to stand by their claim that Menendez patronized prostitutes in the Dominican Republic and that the Washington Post's story debunking that report was inaccurate.
"You have to understand that all of this was ginned up by a Washington Post report yesterday that basically uncritically reported this affidavit from the Dominican Republic," Martosko said. He went on to list the reasons why the Post's report was flawed.
"Even if you say her claims are false, what is the proof she is not – that she is not on this video that she says she is?" Keilar asked. Martosko listed a number of reasons why the subject quoted in the Dominican affidavit was not the same person that The Daily Caller interviewed.
"Someone could obviously fib about their name or they could fib about their age," Keilar said.
"And they could fib about an affidavit as well," Martosko shot back, "and the Washington Post could take it and run with it in a very irresponsible way."
Keilar cited an ABC News report which has alleged that the interview the Daily Caller conducted was set up by a Republican operative. "Is it possible that you were duped?" Keilar asked.
Martosko and Keilar engaged in a heated back and forth over the credibility of the sources The Daily Caller used in their original report on Menendez's Dominican liaisons. Martosko confirmed that his website is going back and checking with their original sources.
"So, it's possible that they actually were paid, and you haven't been able to be sure that they weren't," Keilar asserted. Martosko replied that this was not true, and the Miami Herald has been able to confirm with one of the DC's sources that the allegations in the Post's report were incorrect.
Watch the segment below via CNN:
> >Follow Noah Rothman (@NoahCRothman) on Twitter
Have a tip we should know? tips@mediaite.com