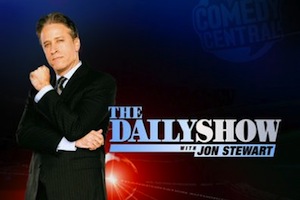 Good news for The Daily Show as Nielsen ratings show that it is now the most watched late night show with the coveted 18-34 demographic. The show overtook former leader, Conan. It's pretty cool but, Jon Stewart, do you have your own ice cream flavor yet? Yeah, didn't think so.
Ah, that was mean. He's probably been jealous of Colbert over that for years. I apologize.
From the Comedy Central press release:
"'The Daily Show with Jon Stewart' added another key demographic win during the month of February, with a victory among Persons 18-34 joining the numerous repeat demo wins for the Emmy® and Peabody® Award-winning series which finished the month as #1 in Total Viewers among late night shows in cable and was also the highest-rated and most-watched late night show in cable among Persons 18-49, Men 18-34 and Men 18-24. Across all of late night, broadcast and cable, 'The Daily Show' finished the month as the #1 late night show among Persons 18-34, Men 18-34 and Men 18-24."
Huh, the show only won with men alone and men and women together? Well, I guess women just suck at watching The Daily Show. Looks like I've got the first chapter of my book response to Mediate founder Dan Abrams' book Man Down which I'm tentatively calling "Whoa-Man: Why Us Dudes Are Still Totes Awesome." It's going to be amazing.
Anyway, Comedy Central also trumpeted the success of both The Daily Show and The Colbert Report's websites, claiming that they were the top two late night show sites when ranked in "Total Visits, Total Unique Visitors, Men 18-34 Unique Visitors and Total Minutes during January 2011." This is impressive considering that watching TV on your computer is clearly the wave of the future. However, this is still the present so who cares, am I right?
Have a tip we should know? tips@mediaite.com