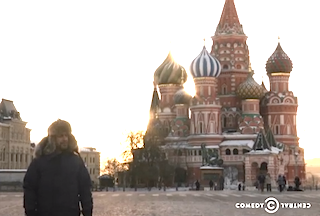 The Daily Show's Jason Jones brought viewers more of his ongoing coverage from "Sochi-ish" Wednesday night, with a report on the "right-wing wonderland" that is the country of Russia. To all those conservatives who complain that American is becoming too liberal, Jones had a suggestion on where they might like to live instead.
"I may have found a conservative paradise in the most unexpected place," Jones reported, noting that while Americans used to yell at "Commies" to go back to Russia, now "it seems the red scare has become the ultimate red state."
Russia has a low, 13% flat tax, just like American conservatives would like to see here. On immigration, they admit that immigrants are needed for "cheap labor," and openly proclaim that "Christian immigration is preferred to Muslim."
"Holy shit, this place is awesome!" Jones declared. "In just 25 years they figured out the free market and institutionalized xenophobia." Even Russia's "most powerful liberal" believes everyone should be able to buy guns and copped to shooting rubber bullets at protesters himself. And on top of that, it's apparently legal to fire someone because they don't believe in Jesus.
Jones ended his report with a parade of prominent conservatives complaining about the direction America is headed. Borrowing a phrase from Homer Simpson, he told them, "If you don't like it, go to Russia."
Watch video below, via Comedy Central:
[photo via screengrab]
— —
>> Follow Matt Wilstein (@TheMattWilstein) on Twitter
Have a tip we should know? tips@mediaite.com