The Daily Show made a boo-boo just two minutes into it's combined segment on Seaworld and Jeb Bush Tuesday night.
Titled "It's Time to Free Jeb Bush," host Trevor Noah and correspondent Hasan Minhaj decided to use the recent SeaWorld San Diego's recent decision to cancel its increasingly less popular killer whale show as a platform for discussing Bush's struggling presidential campaign.
"Recently, I realized that Republicans have their own black fish," said Noah. "His name is Jeb Bush."
As a whole, the segment is quite clever. (Especially when Noah notes that, "At least people can agree that black fish matter.") Yet much of the bit's wit is dampened by a rather egregious error at at 1:53 mark, when a brief cutaway recycles a problematic MSNBC clip from last week.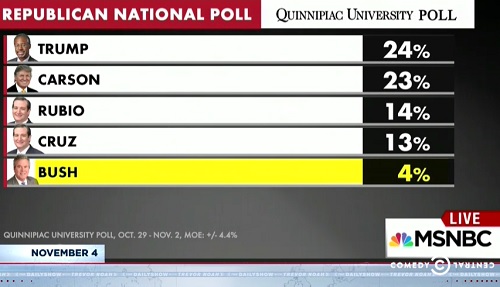 During All In w/ Chris Hayes last Thursday, the show presented a graphic of the most recent Quinnipiac poll with three major errors. Donald Trump and Ben Carson's faces were swapped, and the head shot used for Marco Rubio was a slightly tilted version of the one used for Ted Cruz. As Mediate's Alex Griswold put it, "at least they got Bush right."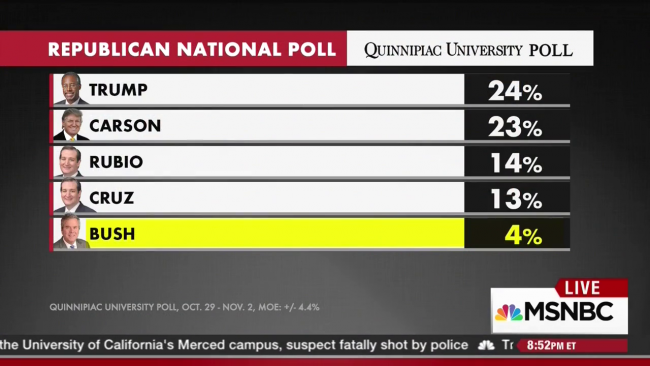 Does this mean that the rest of The Daily Show's segment on Bush is crap? Not necessarily. However, considering previous host Jon Stewart's penchant for issuing apologies when necessary, it will be interesting to see if Noah, the staff or Comedy Central do the same.
Check out the clip above, via Comedy Central.
[Image via screengrab]
— —
>> Follow Andrew Husband (@AndrewHusband) on Twitter
Have a tip we should know? tips@mediaite.com