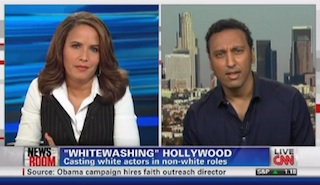 Earlier on CNN, The Daily Show's Aasif Mandvi stopped by to discuss a not at all funny issue; the apparent "whitewashing" of Hollywood. Coming off a column he wrote on the subject for Salon, Mandvi talked about the disturbing trend in Hollywood films in which white actors and actresses are cast in ethnic roles.
The practice is nothing new. As Mandvi's column column, a simple trip to the DVD store can bring you such "classic" moments as Mickey Rooney playing a Japanese man or Charlton Heston playing a Mexican. However as he pointed out today, the America of 2012 is quite different from the America of the past.
"I think the problem is that this attitude that sort of, you know, white is the normal and everything else is not. So there is this kind of idea that, a lot of times, roles that originally come from sources like comic books or novels and things that that are ethnic roles are often given to white actors when it's converted into a film. Most recently, The Hunger Games or stuff like that where you have a white actor playing what was an ethnic role in the novel. So I think this upsets a lot of ethnic people, ethnic actors because this is something that is perpetuated by hollywood in this idea that white is the norm and if you want to identify with the hero, identify with the person on the screen, he or she has to be white. And America's not the same as it was 50 years ago and I think those things should change now."
As an Indian American actor, this is certainly an important issue. Plus, it's something he knows about firsthand since he was, unfortunately, in The Last Airbender.
One unfortunate element of this segment is that it began with Suzanne Malveaux discussing the new Sacha Baron Cohen movie The Dictator and, yet, she never brought the film up to Mandvi. I'd have been interested to know if Mandvi has a problem with Cohen's character since he actually performed it on The Daily Show last week. Oh well.
Watch the segment from CNN below:
Have a tip we should know? tips@mediaite.com