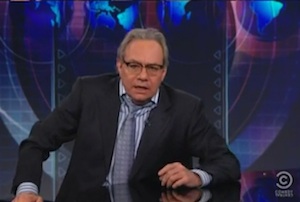 Appearing on Tuesday night's Daily Show, a hilariously agitated Lewis Black ripped into the tabloid-saturated media coverage of Whitney Houston. "The media observed her passing in the tradition of the Native Americans– by using every part of the tragedy!" Lewis exclaimed. "For instance, did you know with very little skill you can turn a song catalog into hours of terrible segues?"
Black then played footage of multiple news anchors using puns from Houston's songs to describe the late pop star. This did not go over well for the Daily Show correspondent.
"Hey a**hole! Someone died!" Black fumed. "Can we cool it with the word play? When Cronkite announced the death of JFK, it wasn't with a clever 'Ask not, who got shot in Dallas today!'"
RELATED: Nancy Grace On Whitney Houston's Death: 'Who Let Her Slip, Or Pushed Her, Underneath That Water?'
But Black reserved most of his vitriol for skewering several high-profile media personalities — most especially Nancy Grace, who casually surmised that Houston may have been murdered.
"Of course! She was pushed underwater! And I know who did it! The Duke lacrosse team!" Black snarked. "It's the only possible explanation for someone dying after years of drug addiction!"
Black also lashed out at Fox News' Eric Bolling telling Democratic Congresswoman Maxine Waters to step away from the crack pipe.
"Well, there you have it!" Black observed. "A beloved pop icon's death used to criticize the Democrats' choice for the banking committee!"
Watch Black rip the media below via Comedy Central:

Have a tip we should know? tips@mediaite.com