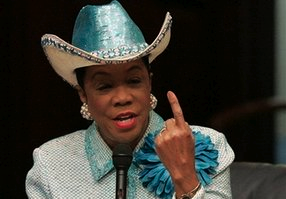 It's not the economy, stupid, it's hats.
Newly elected Democrat Frederica Wilson is itching to get to Congress and get down to business–and the first order of business (in her mind) is to get Congress to finally take up the pressing matter of overturning its ban on hats in the House chamber.

"It's sexist," Wilson told the Miami Herald. The ban "dates back to when men wore hats. And we know that men don't wear hats indoors, but women wear hats indoors. Hats are what I wear. People get excited when they see the hats. Once you get accustomed to it, it's just me. Some people wear wigs, or high-heel shoes or big earrings or pins. This is just me."
Yes, it's definitely just you.
Wilson, a freshman rep from–of course–South Florida, has made a formal request to incoming House Speaker John Boehner to fast-track a change in the no-hats rule, which dates to the 19th Century. Oh, and to get the ban lifted? According to the House Rules Committee, it would take a vote of the full House.
So hang on, unemployed. We'll get to you in just one minute. First, we've really got to show the people what Congress can do when we work together to take on a tough issue like hats. Then, when that outdated and sexist ban is finally put to rest, Rep. Wilson–in one of her 300 or so hats, many of them brightly colored sequined cowboy hats–can settle down to work on getting you a job so you can feed your family or whatever.
Thanks again, Florida, you always give us plenty to be thankful for.
Have a tip we should know? tips@mediaite.com