The Ed Show Panel Conjures Disturbing Image Of Dick Cheney As Bush's 'Security Blanket'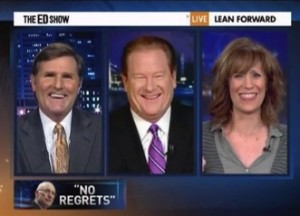 On a day that has seen a lot of painful (and painfully dull) rehashing of political angst against former Vice President Dick Cheney, pegged to his upcoming autobiography, Ed Schultz's Cheney panel managed to squeeze out an entertaining wrinkle or two. On Thursday night's The Ed Show, Ring of Fire host Mike Papantonio struggled to keep Cheney's villainy on par with Dubya's, while Daily Show co-creator Lizz Winstead was suitably disturbed by the idea of Cheney as Bush's binky.

The bulk of Ed's Cheney segment was devoted to the completely unsurprising idea that the former veep would never apologize for his role in the Iraq War, or his support for torture, or anything else. This is a man who shot his friend in the face, and had the guy apologize to him.
Lizz Winstead said that "peace might be his kryptonite," and that she thought he wrote the book because "there were still a couple of people still on the fence about hating Dick Cheney, and he just wanted to make sure that he got everybody on board."
Among the revelations in the book is that Cheney offered his resignation to President Bush several times, but Bush refused. Papantonio tore into Cheney with gusto, but stopped short of positing Cheney as the real power behind President George W. Bush, theorizing that Bush refused to accept Cheney's resignation because Cheney provided him cover for his own decisions, and that it was "comfortable" for Bush to keep Cheney around.
"Having Dick Cheney as your security blanket," Winstead laughed, "is one of the most frightening things that I've ever heard," and noted the shooting in context with Cheney's remark, in an interview that "heads will explode" over this book, wondering, "do you really want to take that to the next level?"
After a day of revisiting the trauma that was the Cheney era, Winstead's observations were like a comedic sorbet. She got in a few more choice quips before landing the last word, saying, "When you're a man who has no pulse you are your own ghostwriter."
Here's the clip, from MSNBC's The Ed Show:
Have a tip we should know? [email protected]