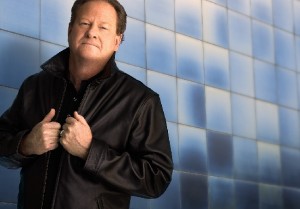 As fate would have it, my exclusive interview with MSNBC's Ed Schultz came just before his return to Wisconsin this week, where he began covering the protests over Gov. Scott Walker's assault on labor a year ago. Luckily, I don't have to ask Ed how he feels about the delivery, Tuesday, of over a million signatures for Walker's recall. Schultz played a major role, not just in covering the protests, but in energizing them as well. They say it's better to be lucky than good, but Ed Schultz was a little bit of both this past year.
When 2011 began, former MSNBCer Keith Olbermann sat atop the liberal media totem pole, with Rachel Maddow close to eclipsing him. Ed Schultz was a radio host who made good, earning his own show at 6pm on MSNBC. Then came January's departure by Olbermann (and eventual landing at Current TV), which bumped Ed to 10 O'Clock at about the same time those Wisconsin protests began. All year, Schultz provided on-the-spot coverage/support for worker-centric protests in places like Michigan and Ohio, while a series of strong ratings performances eventually earned him the 8pm timeslot.
He finished the year as the leadoff hitter in MSNBC's primetime Murderer's Row, and while Maddow is still arguably the bigger star, Ed's was the number one news show among Democrats, according to a consumer survey released in December, just ahead of Maddow. Olbermann's Countdown didn't even crack the top ten.
More important than ratings or poll results, though, Schultz's moment can be measured in the populist sentiment that has gripped much of the country, and has changed the way the media talks about the economy. More than just going along for the ride, Ed Schultz got out and pushed, and kept pushing, long before anyone had heard of Occupy Wall Street.
Getting to know Ed Schultz has been a challenge, to say the least. Between the fact that he does very few interviews, and that he's on the air a good 20 hours a week, it's hard enough to find out something new about Ed. The biggest challenge, though, is the competition between on-air Ed and interview Ed.
On-air Ed is a guy who speaks his mind in real time, often controversially, but always honestly. Interview Ed, on the other hand, is a much more cautious guy, maybe because he trusts his audience more than he trusts the media. I noticed this dynamic the very first time I met Ed Schultz. It was a few years ago, at the White House, where I saw him sitting in the briefing room, quietly waiting for whatever meeting he was there for. I went up and introduced myself, and he was very friendly, open, and gregarious.
After a minute or so of small talk, I asked him if I could catch him after the briefing for a quick interview. His manner became more subdued, as he muttered something along the lines of a "maybe," and our conversation came to an abrupt end.
By contrast, Ed's banter with his staff is warm and easy, and free of the prima donna vibe you might expect from a liberal cable news star. Nobody's afraid to approach Ed.
Even if you do score an interview with Schultz, he's not all that into talking about himself, or about the media. For example, Ed is famously untethered when it comes to calling people out on both sides of the spectrum, but when I asked him about one such time, he shut it down. "Earlier in the year you had a feud with Keith Olbermann, and Michael Moore, David Sirota over the Osama bin Laden thing," I began.
"I've never had a feud with the three people you mentioned. I've never had a cross word with any of them." Ed interjected.
"Wait, didn't you tell Sirota to kiss your ass?" I asked.
"That was a radio interview where we had a disagreement about something. That's not a feud, that's a single conversation and that's as far as it went," Schultz replied, and his tone was clear. End of subject.
But ask him about the issues he cares about, and he comes alive. In other interviews, Ed has talked extensively about his work with survivors of Hurricane Katrina, which he's very passionate about, and in our interview, he became most animated when talking about covering those protests all year.
In this last part of our exclusive interview, that energy is evident, as we discussed the network's decision to invest in his coverage of those protests (about which I was very skeptical at the time), and the challenges presented by the move from 10pm to 8:
Have a tip we should know? tips@mediaite.com