The Five Accuses POLITICO Of 'Cheap Shot' For Story About Republicans Visiting Roger Ailes
The Five
Accuses POLITICO Of 'Cheap Shot'...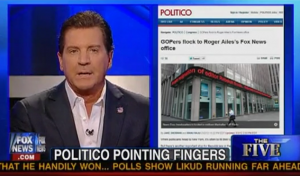 On Thursday, The Five objected to a POLITICO story entitled "GOPers flock to Roger Ailes's Fox News office." Calling it a "cheap shot," co-host Eric Bolling said — and the rest of the crew agreed that this is a non-story, taking stabs at the "lefty" website's journalism.
"They claim that Republicans make it their business to swing by Fox. Okay, and your point is what, POLITICO?" Bolling asked. "Sure GOPs come by Fox. Democrats are welcome here, too. Newsmakers come by Fox, because they're, well, newsmakers. […] POLITICO should rename itself Hypocritico. They couldn't be more far left if they tried."
From the POLITICO piece:
From leaders to lowly freshmen, Republicans are eager to get some face time with a powerful news executive whose megaphone can quickly shift the national debate. In an era of the 24-hour news cycle, in which lawmakers are angling to get on TV, it never hurts to be in good graces with perhaps the most influential news executive in the country.

A Fox News representative said Ailes also meets with Democrats, declining to identify the lawmakers and downplaying the significance of these meetings.

"Roger meets with celebrities, business leaders, newsmakers and political leaders at their request, and he meets with as many Democrats as he does Republicans," the Fox News representative said. "Incidentally, if Roger had any influence on the Republican Party, they might be doing better than they are."
The ultimate in POLITICO hypocrisy, according to Bolling: "Look no further to their chairman, Fred Ryan. Mr. Ryan runs the lefty website while sitting on the board of the Ronald Reagan library. Mr. Ryan, please stop insulting us Reagan conservatives and step down from that board. Do the words 'conflict of interest' mean anything to you?"
Dana Perino added:
If you go to a major news outlet as a politician or CEO and you are looking for media attention, you would, of course, want to meet the chairman of whoever that might be. I think it's kind of strange, coming off the weekend with the White House Correspondents' Dinner where everybody was falling over everyone else to meet everyone else. Why wouldn't you want to meet the chairman of Fox News?
"This is a huge scandal," Greg Gutfeld mocked. "The news network executive meeting with newsmakers. I bet it was behind closed doors."
"Even little old me used to be called and visited by presidential candidates," Bob Beckel chimed in — before Gutfeld quipped, "I think this is Pulitzer Prize-winning journalism."
Andrea Tantaros then recalled her "firsthand experience, working with some of the reporters," when she was working in the New York, running against Eliot Spitzer:
A lot of reporters that are today at POLITICO were in New York. They did not do the reporting that they should have done to check on his ethics to see how Eliot Spitzer funded his campaign. Now, we know what happened. But they were not going to do the proper reporting, they were going to ignore the truth. If it were any other politician they would have wrote many stories about it. These reporters do not want to do the fair work that they should do.
Reporters over at POLITICO took notice:
My colleagues do a solidly reported story on a stream of Rs meeting w Ailes when in NYC and he responds by using his net to attack us.

— jmartpolitico (@jmartpolitico) May 3, 2012
unidentified people on "The Five" lecturing my colleagues on how to do "proper reporting" #davidafterdentist

— Alex Burns (@aburnspolitico) May 3, 2012
Take a look, via Fox News:

Have a tip we should know? tips@mediaite.com