The Five: Arrest Proves Zimmerman 'Much More Dangerous' Than Trayvon Martin Ever Was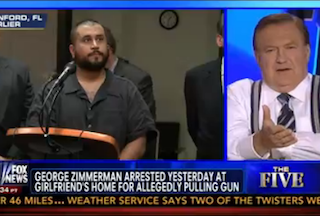 George Zimmerman's latest arrest has the hosts of The Five striking a less conciliatory tone towards the acquitted murder suspect than they did during the trial over Trayvon Martin's death this past summer. Eric Bolling lumped Zimmerman in with a list of "losers" that also included movie producer Harvey Weinstein and Toronto Mayor Rob Ford.
Bob Beckel was the first to denounce Zimmerman's recent actions, saying, "This just underscores my point about–you allow a gun in the hands of a guy like this, who is psychotic obviously, in my mind it just proves to me once again that he shot and killed a poor teenage kid. And the guy should have been in jail for murder and not been allowed to go out there an terrorize this woman." He said that when you allow people like Zimmerman have guns, you will find out that "they're much more dangerous than Trayvon Martin ever was."
Greg Gutfeld admitted that Zimmerman should no longer have access to guns, but also attacked the media for forcing people to take sides. "Either you're for Trayvon Martin or you're for George Zimmerman," he said.
And Andrea Tantaros added that the fact that Zimmerman would continue to behave violently after everything he went through in the earlier murder trial "points to a larger problem."
Before ending the segment, Bolling pushed back a bit, saying "what he did yesterday doesn't have any bearing on what he was accused of doing two years ago."
"Same person," Beckel responded. "Same mindset. Same idiot."
Watch video below, via Fox News:
[photo via screengrab]
— —
>> Follow Matt Wilstein (@TheMattWilstein) on Twitter
Have a tip we should know? tips@mediaite.com