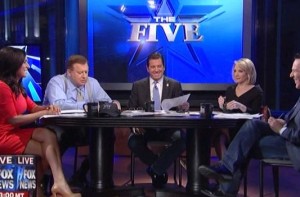 Does President Obama have an "enemies list"? That's the provocative allegation put forth by Ted Olson in the Wall Street Journal. Olson is a former member of the Bush Administration as well as representative of the Koch Brothers who just so happen to be the only real people Olson thinks is on this supposed list. So, does the list exist? That's what The Five asked in the top segment today. What was the answer? Well, since the Koch Brothers were mentioned, I'm going to take a wild guess that the conversation will be instantly derailed and we'll never get an answer. Lets see what happens.
Andrea Tantaros brings up Olson's column and asks Bob Beckel if he thinks there's a list.
Beckel just says that Obama should have a list and begins talking about unrelated allegations that the Koch Brothers did deals with Iran.
At the very mention of these allegations, the panel explodes and Eric Bolling begins listing other allegations about the heretofore-mentioned-by-no-one George Soros for some reason.
Everyone begins comparing Soros and the Koch Brothers.
Dana Perino argues that President Bush would totally never have attacked Media Matters the way Obama attacks the KochBrothers.
Tantaros agrees and complains that Obama has a bad "you're either with me or against me" attitude which is obviously very different from Bush.
At the five and a half minute point, Greg Gutfeld finally pointed out that, no, Obama probably doesn't have an enemies list.
Man, everyone always complains that billionaires like the Koch's and Soros corrupt conversations with their money and influence, but no one ever talks about how they corrupt conversations by just getting mentioned.
Watch the clip from Fox News below:
Have a tip we should know? tips@mediaite.com