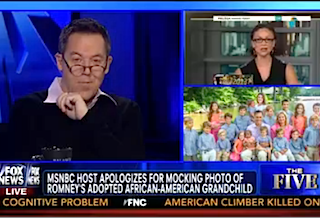 Only MSNBC's Melissa Harris-Perry could bring together Fox News' The Five and Alec Baldwin. The show used comments made by Baldwin about Harris-Perry's tearful apology to Mitt Romney for joking about his black grandson to suggest there was a double standard at work. Greg Gutfeld went so far as to ask whether it's "sexist" for the media to accept Harris-Perry's apology, just because she cried when she delivered it.
"The one that drives me crazy is I think she was sincere. I think the crying was heartfelt," Gutfeld said. "But isn't the sexist for us to feel better about it that she cried? Because it shouldn't matter." He cited Baldwin's tweets, which made a similar point:
If I cry, can I file my taxes late w/o penalty?

— ABFoundation (@ABFalecbaldwin) January 5, 2014
"Alec Baldwin was right," Gutfeld said, to the shock of some of his co-hosts. "In a weird way, Melissa, who is a feminist, kind of defeated her own purpose."
Kimberly Guilfoyle pointed to a "gender double standard," in which Baldwin was fired for making homophobic remarks off-air, but Harris-Perry was "given a pass" for her remarks about Romney.
"I disagree with every single thing that comes out of her mouth, I don't like her. I think she's ridiculous, I think she's provocative, for the sake of being provocative, not because she even believes half of the stuff that comes out of her mouth," Eric Bolling said of Harris-Perry. But that being said, he commended her for acknowledging her mistake, apologizing and moving on.
One question that was not answered during The Five segment: If it's "sexist" to forgive Harris-Perry, what does that make Mitt Romney?
Watch video below, via Fox News:
[photo via screengrab]
— —
>> Follow Matt Wilstein (@TheMattWilstein) on Twitter
Have a tip we should know? tips@mediaite.com