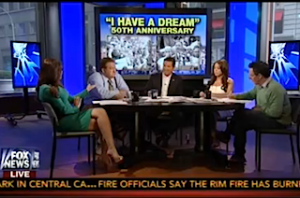 The hosts of Fox News' The Five didn't have anything too terrible to say about President Obama's speech on the 50th anniversary of the March on Washington Wednesday afternoon, but they had plenty to say about the event's line-up. After a day of speeches that included, along with Obama, two former Democratic presidents, Al Sharpton and other left-leaning figures, they found themselves asking, where are all of the conservatives?
Bob Beckel began by offering unqualified praise of Obama's speech and saying how "amazing" Dr. Martin Luther King, Jr. would have been by the presence of a black president in this country. "I think Obama did exactly the right thing," Beckel said, commending him for talking about "change coming from the grassroots into Washington, not the other way around."
Next up, Eric Bolling said Obama "puts together a nice speech, delivers it perfectly," but questioned Obama's devotion to the "pacifist" King in a week when the U.S. could be going to war in Syria.
But it was Andrea Tantaros who brought up the political orientation of the speakers, pointing to King's niece, and occasional Fox News guest, Alveda King as someone who could have helped even things out. "I wish there would have been more representation from the other side of the political aisle," she said. If there had been more conservatives, Tantaros suggested we may have heard more about the lack of education prospects for young African-Americans.
"I believe there need to be other voices," Greg Gutfeld agreed, listing off a large number of black conservatives, including Ben Carson, Allen West, Herman Cain and Sen. Tim Scott (R-SC).
"Clearly these are all progressive Democrats," Beckel said of the event's speakers, before going on to share more remembrances about King. He said what's needed now is for a new generation to follow him and pick up where he left off, which "clearly hasn't been done enough."
Watch video below, via Fox News:
[photo via screengrab]
—
>> Follow Matt Wilstein (@TheMattWilstein) on Twitter
Have a tip we should know? tips@mediaite.com