The Five Battle Over Whether President Obama Should Take Hawaii Vacation While Fiscal Cliff Looms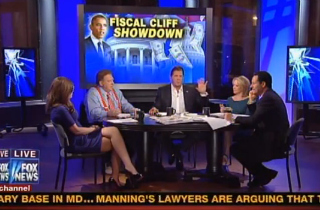 During a discussion on the looming "fiscal cliff," Fox News' The Five debated whether it is appropriate for President Barack Obama to take a multi-week vacation to Hawaii that overlaps with the January 1, 2013 deadline for negotiating a deal to avoid the so-called cliff. Interestingly, conservative co-hosts Brian Kilmeade and Eric Bolling took different positions, with the former arguing that this is normal presidential behavior and that Obama will likely "earn" the long vacation by getting a deal done before he departs for the trip.
Accompanied by video footage of President Obama golfing, swimming, beach-walking topless, and eating ice cream, Bolling said that Obama's Hawaii trip will last, "get this," from December 17 until January 6.
"So that means while America is being hurled headfirst off the fiscal cliff, the Obamas will be spending 21 days golfing, bodysurfing, and lunching to the tune of $4 million taxpayer dollars," Bolling lamented. "Folks, you can't make this stuff up."
Liberal co-host Bob Beckel immediately took issue with the characterization of Obama's trip: "Don't you think the guy deserves a little time off and get a break?"
To Bolling's astonishment, Kilmeade and Dana Perino also agreed.
"Whoa, whoa, whoa," Bolling said. "December 17th to January 6th. Fiscal cliff hits December 31st. Smack dab in the middle of the vacation, he should be in Hawaii? Bodysurfing and not … in the White House?"
Kilmeade explained why he believes the vacation is appropriate: "I believe that he knows that this is his economy now. Clearly. It's not George Bush's economy. If he goes on vacation and this is not done, he's not going to be bodysurfing because he knows, for the next three-and-a-half years, he's going to be tortured. It's going to be his ongoing Katrina."
"That's why I believe that he will earn [the vacation], and get something done before he goes," Kilmeade concluded.
Bolling then brought up a new theory: "Maybe the vacation's on because the president knows he's got a deal?"
Perino wasn't sure about that idea, but noted that if the deal isn't done and the president is forced to remain in Washington, D.C., to continue negotiations, "the media will fawn over him" and talk about such "sacrifice" he made for his country.
"I can't tell you how many shows I've stayed until 11:59 doing live shows, waiting for either the debt ceiling to hit, or the government to shut down. Remember that?" Bolling said, before changing his tune and saying: "I think this is all in the bag. I think they have this deal worked out. And Obama's saying, 'Oh, I need more,' and Boehner's saying, 'Ah, we're farther than we've been before.'"
Perino disagreed: "I think they're farther than ever." Kilmeade, however, concurred that the deal is likely "in the bag," and they would not have announced the dates of the presidential vacation unless they were sure he was going.
Watch below, via Fox News:

— —
>>
Follow Andrew Kirell (@AndrewKirell) on Twitter
Have a tip we should know? tips@mediaite.com