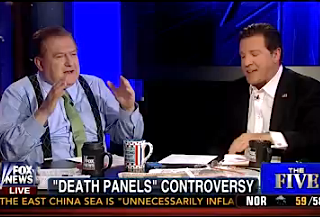 The Five used TIME writer Mark Halperin''s recent appearance on The Steve Malzberg Show to bring up one of the oldest narratives in the conservative playbook about Obamacare: "death panels." Now that a liberal reporter like Halperin was embracing the term, that must mean it was true all along, host Eric Bolling reasoned. Because of that, he said, the "liberal royalty" owes Sarah Palin an apology.
"If she's waiting for an apology from me she will wait a long time," Bob Beckel said, before calling the whole discussion "ridiculous" and asking how Halperin all of a sudden became such a trusted source for his co-hosts.
Beckel continued to mock the notion the one panel will bring together the names of every American and decide who gets to live or die. "You can you go to a lot of places, but this is really the bottom of barrel," he said. "Have we not beat up Obamacare enough? Why don't we just say they have these death camps they will send people to and let them go die?" Bolling's response? "Well, yes."
The rest of the show's hosts were eager to agree with Bolling that Americans should be afraid of the so-called "death panels." Andrea Tantaros asked, "If you don't believe Mark Halperin," why not listen to what President Barack Obama himself has said?" She quoted, "'The chronically ill and those towards the end of their lives account for potentially 80% of the total health care bill. We have to have a very difficult conversation about this.'"
Dana Perino reasoned that problem people had with what Sarah Palin said had more to do with her "terminology" than the facts themselves. "It was stark and it was very effective, and that's what they were pushing back against." Looking at Britain's national health care system, Perino said, "Maybe that language is too strong for some people, but they definitely have knee replacement panels, and hip replacement panels and eye cataract surgery panels."
"I can't believe we're having this conversation! We can't to any deeper in obama care then saying 'You're all going to die,'" Beckel responded. "It's ridiculous! It's absolutely nuts!"
When Bolling accused him of not knowing what he was talking about, Beckel said, "I have an idea of what it was, and what it is is bullshit." Fortunately, the show managed to bleep out the s-bomb before it went live on TV.
For his part, Halperin has since walked back his "death panel" comments, pointing out that he himself never used that term and does not believe they are a part of the Affordable Care Act.
Watch video below, via Fox News:
[photo via screengrab]
— —
>> Follow Matt Wilstein (@TheMattWilstein) on Twitter
Have a tip we should know? [email protected]