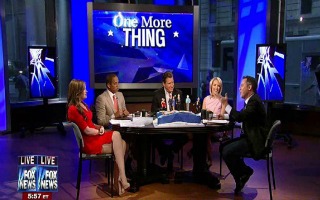 Glenn Beck's departure from Fox News Channel's 5 p.m. block in the summer of 2011 left a gaping hole in the network's prime time programming. Few were certain what the future of that hour would be – but one year later, the block is doing better than ever now hosted by the rotating cast members of The Five.
The cast of The Five says that they never had an explicit mission to fulfill in terms of the voice of the program. What evolved into the show's tone — genuinely friendly banter between hosts who are at the same time unafraid to challenge each other's presumptions — came about organically.
The cast – composed of a rotating group of seven including Dana Perino, Andrea Tantaros, Greg Gutfeld, Bob Beckel, Juan Williams, Eric Bolling and Kimberly Guilfoyle – set out to achieve a tone that resembled a loving, if not argumentative, family.
"I think it was more along the lines of what you would expect around a Thanksgiving dinner table," said Bolling to a concurring Perino.
"My dad used to make me read the Rocky Mountain News and the Denver Post before he got home from work, and I had to be prepared to discuss two articles that I had picked out before dinner," Perino said. "My whole life, we had conversations that were free-flowing like this."
"The story goes around that Glenn Beck kind of told everyone that he was leaving earlier than expected and the boss was trying to figure out what to do and literally one day he sat down and put five, seven maybe ten names down and said 'let's go try this,'" Bolling explained. "And that's literally how The Five was born."
"And then when they said no," Gutfeld said, tagging Bolling's statement, which was pregnant with admiration for his fellow cast members, with a tension-relieving joke.
But Gutfeld's joke cannot mask the reality that The Five has been an unmitigated success. Bolling's contention is borne out in the show's ratings. The program has grown by 15 percent in total viewers since Beck's last full month – June of 2011. The show has grown by 5 percent in the key demographic as well over the course of its first full year. The show has grown nearly 50 percent in both total viewers and the key demo over its first month in July 2011.
On July 2, The Five beat the number one cable news program, The O'Reilly Factor, in the demo and had its most viewed program on June 28 when 2.1 million viewers tuned into to see the hosts' reactions to the Supreme Court's decision on the constitutionality of health care reform.
Show preparation begins right as the day's program ends and does not truly become finalized until a few hours before the next day's show begins. Perino characterized the show prep as a "rolling, 24/7" process.
"We kind of do a loose roadmap at 10 o'clock," said Perino. "There are times where a pitch will totally fall flat, Or, if everybody agrees, then sometimes we just move on to try something else."
Just because the cameras are off does not mean the hosts leave their chemistry at the door. The rolling email and phone conversations among the hosts and production staff hashing out the next day's program is a regular feature of weekends and weekday nights.
"You know what's distinctive about this show in terms of topic selection is that there is such a high emotional quotient that I think is predicated on the idea that people are going to get involved and you're actually going to see their personality emerge," said Williams.
"I remember one day [Fox & Friends co-host] Brian Kilmeade said 'I never knew you were funny,'" Perino said.
"Your sense of humor has really come out," noted Guilfoyle.
"What are you trying to say," Bolling said, turning to Guilfoyle in mock indignation.
"They saw her as a humorless stiff," Gutfeld interjected, still smarting from a rolling on-and-off-air argument he has been having that day with Perino over whether he was "cheap."
NEXT>>>>Continue to page 2 of the article here
Have a tip we should know? tips@mediaite.com