The Five Conservatives Battle With Juan Williams On Fox Over 'Misleading' Benghazi Talking Points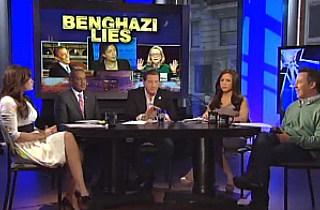 In the wake of revelations that the administration re-wrote its post-Benghazi talking points 12 times with terror references omitted, Fox's The Five right-leaning co-hosts railed against the Obama White House's "misleading" remarks on the attacks, leading to quite the heated battle with left-leaning co-host Juan Williams.
The White House has claimed that its changes to the talking points were purely "stylistic," but former Bush Press Secretary Dana Perino was not buying it, telling her co-hosts that "it is puzzling to me there would be 12 iterations" and suggested that "there are a lot more questions [administration officials] are going to have answer" about the talking points.
Andrea Tantaros, Eric Bolling, and Greg Gutfeld all joined in to assert that the administration had acted to cover up its mistakes in the Benghazi response, with Carney now acting as "truth hider."
Left-leaning co-host Williams recoiled at the suggestion that Hillary Clinton and other Obama officials were "lying," telling his co-hosts — much to their chagrin — that "there have been 20 hearings already, there have been thousands of pages, Hillary Clinton has been on the Hill. You know what? Let them come back. There is still no evidence that anybody lied about anything."
When Bolling countered by suggesting these same officials should be "ashamed" of the lack of accountability, Williams fired back: "These people are of great reputation."
The group then squabbled with their liberal colleague after he suggested the Libyan consulate's security woes were due to Republicans cutting the funding line. "I'll tell you it's absolutely true that the funding was cut," Williams said, "but not only it was cut and Republicans refused to put the money back for the State Department to provide that security.
Watch the full segment (15 mins.) below, via Fox:
Have a tip we should know? tips@mediaite.com