The Five Crew Goes After The 'Injustice Department' For Reading Suspect Miranda Rights: 'It's Shameful'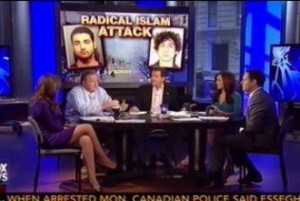 Most of Thursday afternoon's edition of Fox News' The Five was dedicated to former White House press secretary Dana Perino's extended interview with George W. Bush. But towards the end of the show, the hosts got a chance to tackle the latest developments in the Boston bombing case, and they were not pleased.
Eric Bolling presented the reported scenario in which the suspect stopped speaking to FBI interrogators after a federal magistrate judge read him his Miranda rights. "They warned Dzhokhar Tsarnaev that he had the right to remain silent so he did," Bolling said.
Noting that a U.S. attorney was also in the hospital room when the FBI "stepped back," Kimberly Guilfoyle said, "There you go, Eric Holder, the head of the Injustice Department." She said this was a call made by the "D.O.J." because they "believe in just issuing Miranda rights. They didn't have to. What they needed to do was make sure America was safe." She later added, "It's shameful. Care more more about the safety of the country."
Andrea Tantaros speculated that it was the Obama administration made the call for "political reasons," a "knee-jerk reaction" to ward of critics claiming the suspects wasn't being afforded his Constitutional rights.
Before signing off, the hosts briefly discussed the video interview that emerged today of the suspects' mother claiming the bombing was a like a "play" with "paint instead of blood." Brian Kilmeade jumped in on this story, saying, "I don't know what kind of drugs she is on and what her role is, but she evidently is the one who radicalized her son."
Before the commercial break, you could hear Bob Beckel, off camera, suggest, "Mushrooms."
Watch video below, via Fox News:
—
>> Follow Matt Wilstein (@TheMattWilstein) on Twitter
Have a tip we should know? tips@mediaite.com