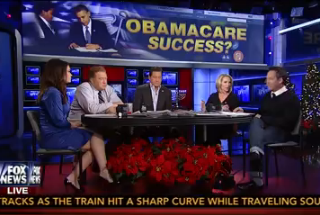 Since the government shutdown came to an end on October 17th, the mainstream media has shifted much of its focus to the troubled rollout of the Affordable Care Act. This has been especially true for Fox News' The Five, which has opened its show with the latest Obamacare nearly every single day over the last month and a half. Monday, the show's hosts defended the constant coverage, saying Obamacare needs all the "attention" it can get.
Greg Gutfeld introduced a clip of President Barack Obama essentially dismissing his negative approval ratings in an interview with Barbara Walters over the holiday weekend. When Bob Beckel predicted that Republicans will find a way to boost Obama's poll numbers, Gutfeld turned it around on the media, saying, "The Republicans will always be the viable villain for the media. They're going to find something that the Republicans do next that will take away–because Obama is their guy."
"Hopefully, the Republicans are smart enough to stay on Obamacare," Eric Bolling added, before using The Five as an example. "You wonder why it's the topic every single day, it's because it needs to be. It shouldn't be contraceptives, it shouldn't be gay marriage. It should be health care, healthcare.gov, Obamacare going forward, because this is an epic fail on Obama's part."
"Because it needs the attention!" Kimberly Guilfoyle chimed in.
Throughout his comments, Beckel was goading Bolling to explain why Republicans don't come up with "something of their own" to promote in place of Obamacare. "Can you tell me what the Republican agenda is for the next year?" he asked.
"It should be Obamacare," Bolling replied. "It should be keep the House and get the Senate."
"There's only two ways to bring your numbers back up like that," Beckel said later in the segment. "Either do something significant, which I don't think there's much to do. Or have the opposition party screw up, and I think they will."
Watch video below, via Fox News:
[photo via screengrab]
— —
>> Follow Matt Wilstein (@TheMattWilstein) on Twitter
Have a tip we should know? tips@mediaite.com