The Five Defends Oprah: Shouldn't Have to Apologize to 'Overly Sensitive' Atheists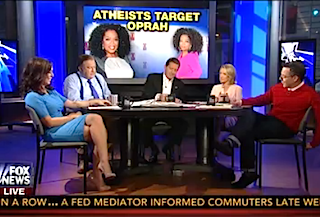 The hosts of Fox News' The Five have not always been big fans of Oprah Winfrey. But they found themselves defending the "Queen of Talk" on Thursday's show against accusations that she's been insensitive to atheists. In their opinion, Winfrey most definitely does need to apologize for comments about what it means to believe in God.
Winfrey has been under fire from atheist groups after she disputed record-breaking swimmer Diana Nyad's claim that she's an "atheist" because she believes in the "awe and the wonder and the mystery" of the world. In Winfrey's mind, that means Nyad believes in God.
"Unabashed Oprah fan" Dana Perino said definitively that Winfrey doesn't owe any apologies. "Why should she apologize for her opinion?" she asked. "I don't know why atheists are so overly sensitive. Everything is an insult to them."
Greg Gutfeld urged Perino to pump the brakes a bit, reminding her that not all atheists are "hyper-sensitive" and that there are plenty of religious people who "will kill you if you insult their religion." Perhaps outing himself as one of those atheists, he said, "there are many atheists, some people who you work with, who don't care one way or another what you believe in."
Andrea Tantaros identified most strongly with Winfrey's idea, saying, "I guess if you believe that we came here because of some massive explosion out of nowhere and there is no God, which I'm assuming what she's saying, she can be in awe that we just exploded or evolved from monkeys. I am in awe of that theory. I don't personally believe it. But look, Oprah can say whatever the heck she wants."
If anyone had something negative to say about Winfrey's comments it was Eric Bolling, who questioned Winfrey's premise. "I'm thoroughly confused what she's talking about. If you have awe in nature that means you believe in God?" he asked. "I believe in God and I respect in everyone's right not to believe in God. I don't think we should have an opinion whether Nyad has a belief in God or not."
Watch video below, via Fox News:
[photo via screengrab]
— —
>> Follow Matt Wilstein (@TheMattWilstein) on Twitter
Have a tip we should know? tips@mediaite.com