The Five Defends Rep. Trey Radel: 'We Have to Stop Fighting the War on Drugs'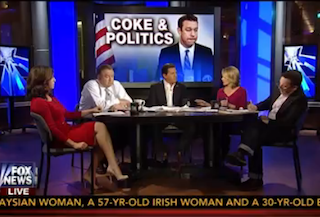 It's been two days since Rep. Trey Radel (R-FL) was charged with misdemeanor possession of cocaine. Since then, he has announced that will take a leave of absence from the House of Representatives to seek treatment. But should he be forced to resign?
Radel found a few supporters on the set of Fox News' The Five Thursday afternoon, when the hosts debated the congressman's political future and mostly agreed that his admitted cocaine addiction should not cause him to lose his seat.
"Two years ago, I would have said he should resign," Eric Bolling began. But "as I'm getting more into this libertarian thing–look, we've lost the war on drugs, we have to stop fighting the war on drugs." On the other hand, he added, "if he doesn't think he can function properly he should certainly step aside."
Greg Gutfeld added that the only reason Radel should have to resign is if his drug use is having an "impact" on his professional life. "Other than that, who cares," he said. Echoing House Minority Leader Nancy Pelosi, Gutfeld pointed out that Radel has advocated for drug testing of food stamp recipients, "which means therefore he should be tested for drugs as well, because he's also a beneficiary of our money."
"I certainly don't think he ought to be forced to resign," Bob Beckel, who has had his own struggles with addiction said, citing a history of substance abuse problems in Congress. "There's no rule in the House that says he has to."
The only host who definitively said Radel should resign was Andrea Tantaros. "The lawmakers can't be the law breakers," she said. "I mean, where do we draw the line? So, as long as coke possession is still a felony, and I believe that it is, I think he should do the right thing and step down."
Watch video below, via Fox News:
[photo via screengrab]
— —
>> Follow Matt Wilstein (@TheMattWilstein) on Twitter
Have a tip we should know? tips@mediaite.com