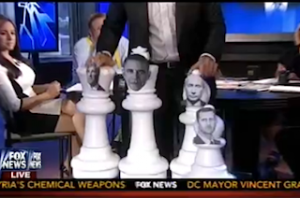 In the "high-stakes international chess game" that is the diplomatic crisis with Syria, The Five's Eric Bolling knows who's winning. And he has the giant chess pieces to prove it. The Five opened Thursday afternoon with a look at Russian President Vladimir Putin's New York Times op-ed that argues against a U.S. strike in Syria and challenges the notion of American exceptionalism.
The hosts didn't fault the Times for running the piece, but did say it was "embarrassing" for President Obama. Putting her press secretary hat on, Dana Perino said, "I don't think I would have been mad at The New York Times, because I understand business. They want eye balls to go to their website, they want to sell a lot of papers, get attention." She did she she would be mad at the American PR professionals who helped put the piece together, because "he doesn't speak English that well."
"Don't you think this is just another example of Putin playing with the United States of America?" Andrea Tantaros asked Bolling, who wholeheartedly agreed.
"The fact is Vladimir Putin played us," Bolling said as he brought out the over-sized chess pieces. "He outmaneuvered the American people." He used the pieces to show how King Obama and Queen John Kerry were somehow beaten by Bishop Putin and Pawn Bashar al-Assad. "That should never have happened," he said, "but when you're playing with this kind of king, that kind of thing can end up happening."
When he got over his disbelief at the sight of the giant chess pieces, Bob Beckel countered Bolling by saying Putin didn't "play" anybody, but rather it was a John Kerry "screw-up" that led the administration to the current situation.
Tantaros also told Brian Kilmeade that she thought they heard something familiar in Putin's op-ed. This language about the United States not being exceptional," she said, "where have I heard that language before that we're not exceptional and that we shouldn't be involving ourselves in these foreign conflicts?"
Kilmeade knew what she was implying, pointing the finger at President Obama. "This is an opportunity to pick out a common enemy," he said, suggesting Vladimir Putin. "If I'm President Obama and I want to play this chess piece, my chess piece is 'I'm going to let this play out, but I'm going to remember that you called out our country.'"
Watch video below, via Fox News:
[photo via screengrab]
— —
>> Follow Matt Wilstein (@TheMattWilstein) on Twitter
Have a tip we should know? tips@mediaite.com