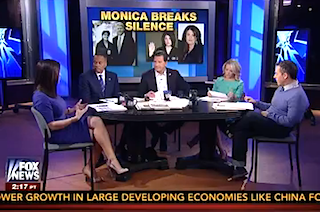 Why did Monica Lewinsky choose this moment to "break her silence" about the infamous affair she had with President Bill Clinton by writing a tell-all for Vanity Fair? CNN's Ashleigh Banfield noted the "uncanny" timing earlier in the day, but the conspiracy theories really started to fly this afternoon on Fox News' The Five.
"Why now?" co-host Andrea Tantaros asked. "There's a lot of conspiracy theories floating out on the timing of this article, but why do you think Monica Lewinsky, who we haven't heard from in years, decides to go in such a very public magazine?"
Eric Bolling pointed out that Lewinsky says she passed up opportunities to profit off of her story in the past but now is deciding to speak out "just as Hillary's about to announce that she's going to run" for president in 2016. "The theory that I'm hearing, and this could be completely off base," Bolling said, "is that it's to provide sympathy for Hillary, just remind everyone that Bill Clinton was a jerk, Hillary Clinton stood by her man, and that's just the kind of person that she was."
"I'm not sure if that holds water or not," Bolling added. "There's a bunch of theories flying around."
"That would mean that there would have to be some level of collusion with the Clintons," Tantaros said, implying that Vanity Fair or even Lewinsky herself were actively trying to get Hillary Clinton elected.
"There doesn't have to be, because the media and Democrats can communicate without talking, right," Dana Perino said. "They just look at one another and it's understood, and so you don't have to have a plan, there's not going to be any secret document. It's just something like, 'we know that we need to do this.'"
Perino did not say whether or not she was joking about the secret non-verbal communication between Democrats and the media.
Watch video below, via Fox News:
[Photo via screengrab]
— —
>> Follow Matt Wilstein (@TheMattWilstein) on Twitter
Have a tip we should know? tips@mediaite.com